Twitter: We also made a shedload of cash from Russia's trolling during US White House race
What's 'Kerr-ching!' in Russian?
Like Facebook before it, Twitter has acknowledged that, during the US presidential elections, it collected hundreds of thousands of dollars for ads supporting Russian media messaging, and that it has identified Twitter accounts tied to Facebook profiles known for promoting pro-Russia views.
Or another way of putting it: Twitter made a load of cash from groups seeking to swing the White House race to suit their agenda.
In a post to its public policy blog on Thursday, Twitter said three accounts associated with Russia Today (RT), spent $274,100 in US ads in 2016. The ads, it said, mostly promoted RT tweets about its news stories. RT is strongly linked to the Russian government, and is seen as a relatively influential mouthpiece for the Kremlin.
The troll haven and bot bastion also said it found that out of 450 Facebook profiles identified by that company, 22 also had Twitter accounts. Twitter said it suspended those accounts not already banned for rules violations.
It also said it identified 179 additional related or linked accounts and took action against those found to have violated terms of service rules.
Allegations of Russian meddling in the 2016 presidential election have been a contentious issue since the vote count. Facebook's recent disclosure that it accepted over $100,000 in divisive ads has alarmed US lawmakers and forced CEO Mark Zuckerberg to confront an issue he dismissed in November.
Thus it was that Twitter public policy veep Colin Crowell spoke before the House and Senate Intelligence Committees on Thursday about fake news, potential election interference and Twitter's attempts to mitigate manipulation.
'Enormous lack of understanding'
News reports suggest Crowell's performance was poorly received. Senator Mark Warner (D-VA) is said to have expressed disappointment with Twitter's presentation.
According to CBS, Warner said, "The notion that their work was basically derivative, based upon accounts that Facebook had identified, showed [an] enormous lack of understanding from the Twitter team of how serious this issue is – the threat it poses to democratic institutions – and again begs many more questions than they offered."
Via Twitter, Warner said he was working with Minnesota Democratic Senator Amy Klobuchar to draft legislation to make the source of election ads more evident.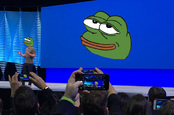 For Facebook, ignorance is the business model: Social net is shocked – SHOCKED – that people behave badly
READ MORE
Twitter enumerated the various measures it takes to fight spam, bots, and assorted forms of abuse, noting that its automated systems catch 3.2 million suspicious accounts globally each week – more than twice the amount detected last year. At the same time, the company all but acknowledged it can no longer manage miscreants on its own, by welcoming regulatory intervention.
Its stance is all the more surprising given the digital ad industry's persistent insistence that self-regulation is enough.
"We note recent calls for increased public disclosure with respect to political advertisements on social media, including Twitter," the company said in its post. "Twitter supports making political advertising more transparent to our users and the public."
Lawmakers appear to need no encouragement, at least among Democrats. In a letter sent a week ago to the head of the Federal Elections Commission, 20 Democratic senators ask for rules [PDF] to prevent illicit foreign spending to influence US elections. ®