Roku today responded to Apple with a new range of streaming boxes and an updated operating system that tightly integrates broadcast TV.
The company is still leading the streaming media box market, in large part because it is simply better and offers more than its main competitors in AppleTV, Amazon's Fire TV, and Google's Chromecast.
However, Apple has started adding extra features to its gizmo – such as a touch panel on the remote and Siri – and, more importantly, has stopped blocking other companies from its system, so you can now watch Amazon Instant Video, for example.
Where Apple really hoped to storm the market, though, was in cutting a deal with cable giant to offer their slate of programs on its box. Apple failed miserably, with goliaths like Comcast preferring to keep everything under their control and force subscribers to "rent" their own clunky boxes (something US watchdogs also tried, and failed, to do away with).
As such, in a determined nose tweak to Apple, Roku's new hardware and version 8 of its operating system will pull in live TV and add it to its menu. In one example the company gives, a search for feature-length cartoon Sing provides the opportunity to rent or purchase it from a range of companies but also includes a live listing of its playing on broadcast TV with the start time.
The boxes also offer a cable-service style listing of live TV, making it even easier to ditch that cable box and cut the cord – so long as you install a broadcast TV antenna.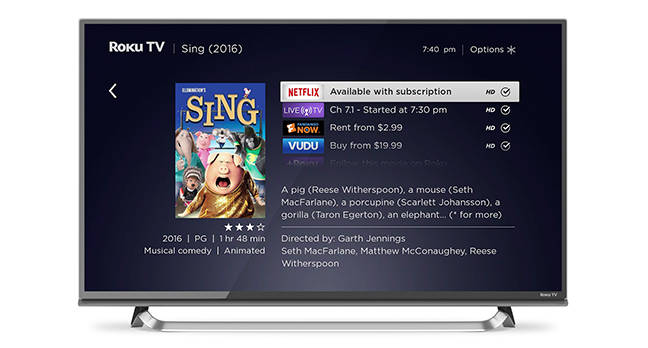 Roku boxes will add live TV to the search menu
As for the new line-up of boxes: they are all updated versions of existing products. At the low-end are its streaming sticks. They come with a voice-activated remote, and offer HD video playback for $50.
Then there is the mid-tier Express which costs $30, or $40 for the slightly higher end Express+. They offer HDMI and A/V streaming and this time around the update is largely in terms of processing power – Roku claims the new versions are five times more powerful, which should translate to faster searches.
And then at the high-end is the $100 Roku Ultra (a price reduction on its previous $130 box) that offers 4K quality video and a remote that does voice search, has a headset socket, and a feature to find its remote controls in case they get mislaid. It also has a micro SD slot to speed up load times.
In short, while Apple is trying to jump Roku by introducing more and more Apple-like technology, including touch screens and voice assistants – all of which comes at a price, Roku is sticking to what it does best: producing a really good device and keeping an open approach to content.
At the moment, Roku is able to maintain its position by producing updated versions of its hardware and software but as cable companies slowly recognize that their closed-garden approach is driving viewers away from them, increasingly cable boxes are likely to look more and more like Roku's – with a range of content instantly available through apps. ®