This article is more than 1 year old
Smart burglar alarms: Look who just tossed their hat into the ring ... It's, er, Ring
Launch comes a week after Nest does the same
The smart home battleground has moved to security systems, with smart doorbell biz Ring announcing this week a new product just days before Nest dove into the same market.
The Ring Protect is very similar to Nest's Secure system launched last month in that it aims to be a simpler, friendlier version of traditional beige boxes stuck on walls. However, Ring's Protect is significantly less expensive.
Nest's basic security bundle will be $499; Ring's is $199. And for that you get a keypad, base station, one door or window sensor, a passive infrared sensor and an extender that uses Z-wave for comms.
The main difference between the two systems is that Nest offer tags that you can attach to your keys and turn the system on and off without having to punch in a number.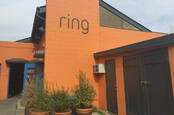 The next Nest? We talk to Ring, the doorbell-come-security system
READ MORE
Ring says its product will offer an "incredibly effective level of security compared to expensive legacy systems… at a fraction of the cost." As opposed to home security giants like ADT, Ring says it will not tie you into a contract or add additional fees: you buy the system and a monitoring service will cost $10 a month.
The manufacturer is also making the same pitch as Nest: the system will work with its other products, its doorbells and smart cams, providing a smarter overall security system. And it matches the most recent iterations of home security companies by offering access to the system through a smartphone app.
Obvious entry
In many ways, burglar alarms are an obvious entry point for smart home companies: the market is ripe for shaking up. But even so, there is little revolutionary with either Nest's or Ring's latest security gear. They still rely on the same basic setup: a base station, motion sensors that talk to it, and a keypad to disarm or arm the system.
All products come with a more modern design and style but are the same size and use the same basic approaches. The motion sensors are still quite big and are stuck on with adhesive. Base stations look like base stations.
Nest's kit is a little more sophisticated in that it has one sensor to detect both motion within a room and motion of a specific thing – a door or window – and it brings corporate-style security with the use of electronic tags.
But that sophistication comes with a price: we calculated for an average house the overall cost would hit $1,000. Ring's system – which can be ordered now and will be available, just like Nest's, next month – will be less than half that. Although, unusually, Ring has not announced the cost of additional sensors so it is hard to know for sure.
Nest's monitoring is also going to be much more expensive: $5 a month for cellular coverage, $5 a month for each camera for full storage, and as-yet undisclosed pricing from MONI Smart Security for following up on any alerts. Ring's $10 a month, by contrast, includes unlimited camera storage.
Success?
In this sense, Nest and Ring have nearly split the market into mainstream and high-end with the Ring system doing everything you need a security system to do but at lower cost and Nest offers bells and whistle but at a cost. The big question is: will folks go for either?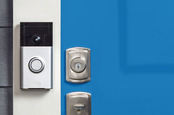 One Ring to pwn them all: IoT doorbell can reveal your Wi-Fi key
READ MORE
Security system flingers go out of their way to tie people into their systems, offering steep discounts on the hardware in return for customers signing two-year contracts. The companies know that if people have a box already in their house they are likely to simply renew subscriptions rather than go to the trouble of introducing a whole new system.
Many of these gizmos are also designed to be a closed shop: installers work within an unnecessarily complex and occasionally byzantine system to get everything working. It is beyond the capabilities of most homeowners to figure out how to wrangle their equipment.
It may be that if people already have Ring or Nest products they decide to replace their existing home alarm system; it may be that people who have considered security systems but never installed one are persuaded to go with a new burglar catcher.
But, unlike smart doorbells – that let you see and talk to people at your doorstep – and smart themostats – that save you money by optimizing your house's heating and cooling systems – these devices do not offer a huge advantage over existing players in the home alarm market. They do look nicer and work with other internet-connected gadgets, but whether that is enough for consumers to part with their money, it's hard to know. ®