Grab a sweetie shovel and prep your insulin for our storage pick 'n mix
The bonbon of backup, cola bottle of containers, foam teeth of flash
Storage roundup You're getting plenty of hardware sugar (NVMe) and remote software spice (the public cloud), with lots of tasty goodies in between in this week's storage roundup.
We have news from 18 vendors: Acronis, AIC, Avere, BlueData, Cloudian, Crossbar, Datrium, Iguazio, Panasas, Pavilion Data Systems, Qubole, Rozo, Rubrik, Synology, Tintri, Turbonomic, and WDC. Let's dive in.
AIC
AIC provides both OEM/ODM and COTS (commercial off-the-shelf) server and storage products. It is providing NVMe cluster servers, which combined with Seagate NVMe SSDs and Mellanox networking kit enables users to accelerate their high-performance applications.
A demo using ScaleIO, 3 x AIC SB122A‑H server cluster, 10 x Seagate XF1440 800GB NVMe SSDs per server, and Mellanox 100GbitE and 40GbitE provided 750,000 4KB IO/s random read performance and 480,000 4KB random 70 per cent read and 30 per cent write speeds.
It delivered 8.2GB/sec 1MB sequential write and 2.6GB/sec 1MB random write throughput.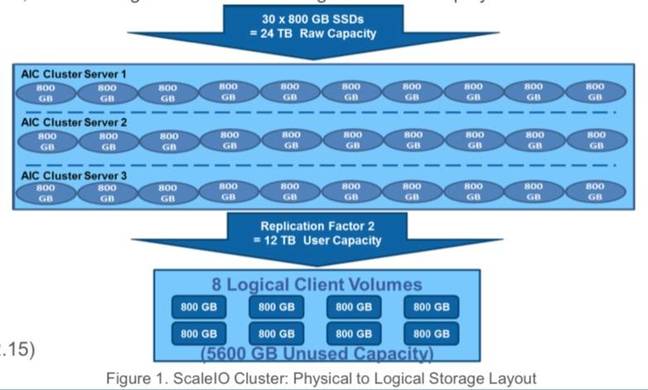 AIC demo system
The point is that here's an OEM/ODM server manufacturer using COTS gear to demo NVMe-based flash storage that's so fast as to make your eyes blink. It shows what a tremendously hard job the major server and system manufacturers have on their hands in this area.
There's more information here [PDF].
Avere
Avere and WDC unit HGST have picked up Illumination Mac Guff as a customer. It's a subsidiary of Universal Pictures and a studio for animated feature films, being known for films such as Despicable Me, Minions, The Secret Life of Pets and Sing.
The Avere FXT Edge filer kit provides a gateway/front-end to HGST's ActiveScale object storage to provide a fast-access, long-term archival store for digital assets. Avere's FXT technology provides transparent NFS-to-S3 (Amazon S3-compliant interface) object storage translation. The ActiveScale store contains more than 2PB of data.
Avere front-ends about 6PB of production-data capacity across two tier 1 storage clusters for Illumination Mac Guff. It ensures high-performance I/O to the studio's 80,000 core render farm, as well as to approximately 1,000 artist workstations.
BlueData
With its EPIC software, BlueData provides BDaaS (Big Data as a Service) and has made it available on both Microsoft Azure and Google Cloud – building on Amazon Web Services (AWS) availability – and introduced deep learning capabilities.
There are options for running Hadoop, Spark, and other Big Data workloads on Docker containers.
It says it's the first and only BDaaS offering that can be deployed on-premises, in the public cloud, or in hybrid and multi-cloud architectures.
The feature list includes:
BigDL (Spark-based framework for deep learning optimized for Intel architecture) for distributed deep learning on Spark. Includes a pre-integrated application image for Intel's BigDL running on Docker containers.
Support for graphics processing unit (GPU) acceleration and TensorFlow, pre-integrated application image for TensorFlow and support for clusters accelerated with GPUs. Admins can ensure placement of Docker containers running TensorFlow only on infrastructure configured with GPUs – whether on-premises or in the public cloud.
Streamlined operations for deep learning projects, with pre-integrated Spark clusters, action scripts (eg, to update all the nodes in a running environment with a single click), and web-based notebooks (eg, JuptyerHub, RStudio Server, Zeppelin) to automate the end-to-end lifecycle of data science operations.
New capabilities for container placement and enhancements in monitoring, security, automation, and performance.
Flexible container placement policies, with defined roles for a given application image and controlling the placement of containers associated with a specific role to specific hosts.
Purpose-built features for flexible cluster role definition and node tagging, so admins can ensure the right Big Data workload is assigned to the right underlying host.
Enhanced container-level monitoring with detailed monitoring for container-level disk I/O and network throughput.
The EPIC release will be generally available in October and BlueData is announcing directed availability for Azure and GCP. It will be licensed for Azure and GCP with a monthly subscription price.
A series of blogs here discuss BlueData's announcement.
Cloudian
Object storage supplier Cloudian has announced the availability of its HyperCloud on Microsoft Azure, making its S3 API interface accessible through Azure Blog Storage.
It lets users connect their S3-compatible applications to Azure Blob Storage and uses the native Blob Storage format. The software runs fully virtualized within the Azure cloud platform, and delivers scalable performance via parallel access across multiple Azure Virtual Machines.
Stored data, accessible through Azure's Blob APIs, can be accessed by the full Azure application ecosystem, such as PowerBI, Azure Machine Learning, or Cortana Analytics.
(See also Caringo and Scality.)
Crossbar
Mobiveil and Crossbar announced they are collaborating to use persistent resistive random access memory (ReRAM) in an SSD. The two will apply Mobiveil's NVMe SSD IP to Crossbar's ReRAM IP blocks with the goal of having 10 times more IOPs at one-tenth of the latencies of flash NVME SSDs. It should speed up access to frequently requested information in large data centers.
Here's a schematic chart of the concept: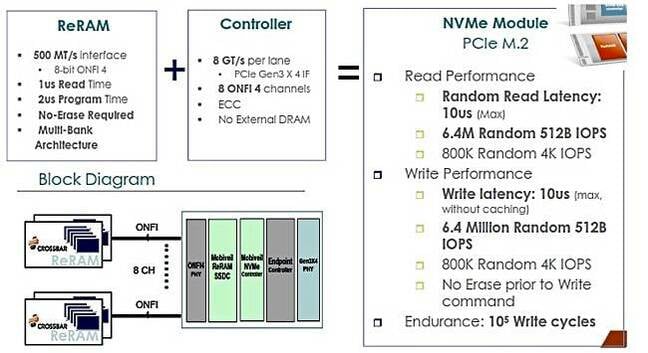 The Crossbar ReRAM architecture is capable of six million 512B IOPS below 10us latency. The two say there's been a heightened level of interest in persistent memory since Intel and Micron introduced 3D Xpoint.
They are also working on incorporating ReRAM into NV‑DIMMs. "The NV‑DIMM is the natural evolution of what we're doing with the SSD," according to Sylvain Dubois, VP for strategic marketing and business development at Crossbar.
Crossbar claims using ReRAM in an SSD reduces storage controller complexity by removing large portions of the background memory accesses needed for garbage collection. It also provides independent, atomic erasure by eliminating the need to build large-block memory arrays in flash designs.
But the two aren't actually building ReRAM SSDs. Instead they aim to license their combined IP to someone else, who will hopefully bet real money on building the hardware. We have no idea on costs and no idea of what real-world data access performance will be from a server host app to a ReRAM SSD, or what actual markets will need ReRAM SSDs or NVDIMMs.
This stuff then is promising, but nowhere near becoming real product.
Acronis
Data protection and security supplier Acronis is partnering with Renault Sport Racing and its e.dams team. It is providing cloud storage, backup, and active ransomware protection based on artificial intelligence for the Renault Sport Racing IT infrastructure.
The Renault e.dams team is managed by four-time Formula 1 world champion Alain Prost, and takes part in the FIA Formula E (Electric) racing series.
Ah, the lure of motor racing to IT suppliers is undimmed, with its wondrous marketing appeal of speed, precision and winning.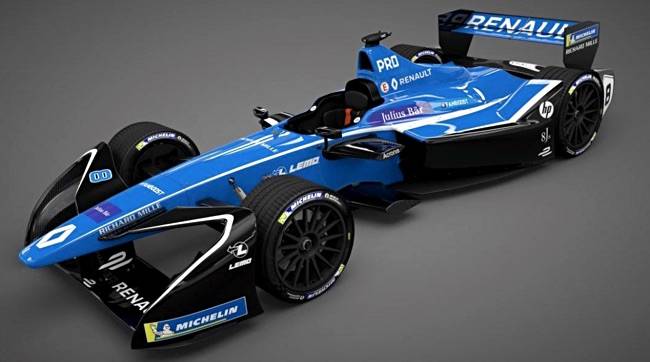 Spot the Acronis logo. (Hint - it's in the middle)
Acronis claims 30 per cent of its new enterprise customers originate from the automotive field.
CEO Serguei Beloussov gave out a canned statement: "Automotive is an innovative industry. Connected devices, self-driving cars rely on data availability. All this data needs to be protected. Acronis brings artificial intelligence and machine learning to make our data protection and storage technology even more competitive. Winning is not just about winning, it's also about cost-effectiveness and efficiency, and Acronis will deliver."
Datrium
Split-provisioning storage array supplier Datrium has a partnership with Oracle and its DVX product is certified for use with Oracle RAC.
Oracle classes Datrium as a Gold partner.
Datrium says DVX is better for Oracle RAC users than hyperconverged infrastructure (HCI) products because, "[w]hen organizations need to roll out a small 2‑node RAC deployment, HCI cannot offer a 2‑node cluster. In order to provide the highest level of availability, the minimum cluster size for HCI is 5 nodes, which is subject to more than twice the Oracle licensing costs.
"There is also an availability mismatch between HCI and Oracle RAC. For example, RAC's built-in availability architecture ensures that a 4‑node RAC deployment will continue to run even if three of the four nodes fail; whereas with HCI, should more than 2 nodes fail, the entire cluster fails. Finally, many HCI systems do not have the built-in copy data management to clone production databases for test/dev purposes with zero performance impact."
The company claims that scaling is configuration-free with Datrium's support of Oracle RAC. Data services such as erasure coding, global deduplication and compression are always-on and there is no need to selectively configure performance versus efficiency for a given workload.
Adding another Oracle RAC node means cloning a virtual machine in VMware vCenter. Performance remains high with automatic alignment of I/O with the most active Oracle RAC node and VMware host, eliminating network reads and maintaining high performance.
With Datrium DVX servers remain stateless, so where there are N servers, N‑1 servers can fail and the DVX remains available. This is well-matched with Oracle RAC which is architected with the same availability model.
So... take that, HCI vendors.
Iguazio
Grab, a ride-hailing platform in SE Asia and Uber rival there, is a customer for Iguazio's Unified Data Platform (UDP). This software, Iguazio says, provides cloud-like integrated data analytics services for on-premises and edge deployments, but with better performance and a simpler developer experience than AWS.
Grab is apparently used for more than 3 million rides per day – ooh Uber, bet you'd like a piece of that – and the UDP product is being used for data monetization and operational efficiency objectives:
Driver incentives to determine driver bonuses in real time, by analysing and increasing driver effectiveness, the number of runs during peak driving times and rider satisfaction.
Maximising driver profits while reducing passenger wait times by optimizing the decision-making process using advanced real-time supply and demand heatmaps.
Surge pricing optimisation, which correlates passenger demand data with external data sources, such as news, weather and social media.
Grab will continue to send and analyse some data in the AWS cloud, but will use Iguazio for real-time processing and analysis of its more time-sensitive requirements.
Panasas
The Science and Technology Facilities Council's (STFC's) Rutherford Appleton Laboratory (RAL) in the UK has expanded its JASMIN super-data-cluster with an additional 1.6PB of Panasas ActiveStor storage.
ActiveStor is presented as a clustered NAS appliance incorporating flash and SATA disk storage nodes. It combines parallel data flow and direct data access technology to boost performance, increase data availability, and eliminate hotspots in a single namespace environment.
The sale brings its total storage capacity to 20PB, the largest realm of Panasas storage worldwide. JASMIN is used for climate data analysis at petabyte scale and processes an average of 1‑3PB of data a day. Get an impression of the Panasas storage use here.
Panasas CEO Faye Pairman went all misty-eyed and benefit-of-humanity in a canned quote: "We are proud of our long-term partnership with RAL and STFC, and of our ability to facilitate research that protects the lives and livelihood of all who inhabit the planet."
A 20PB single namespace storage estate is pretty damn impressive.
Pavilion Data Systems
This NVMe storage array startup has a new CEO, Gurpreet Singh, who joins from Pure Storage. The previous CEO, Shri Dodani, left in April for an unknown destination.
Pavilion has been re-energised, with a neat new website and a set of blogs talking about the unique features of its technology.
Often a CEO change in startups is associated with a funding announcement. That isn't the case here, as no new funding is needed or coming according to Jeff Sosa, head of products at the company.
We think Pavilion is upping its marketing game; expect announcements about progress in the not-too-distant future.
Qubole
Big Data as a service startup Qubole says its Qubole Data Service (QDS) product supports Microsoft's Azure Data Lake Store. It adds workload-aware auto-scaling capabilities using Azure's minute-based billing model.
It says big data workloads tend to be "bursty," with the amount of compute required varying over time. The Azure cloud supports per-minute billing and when combined with QDS' auto-scaling, creates a precise way to reduce wasted compute, lowering TCO by as much as 66 per cent.
Find out more here.
Rozo
Software-defined scale-out NAS supplier Rozo Systems announced RozoFS 3 which can data center storage performance for its customers by as much as 60 per cent, offering the performance of flash at the price of disk.
It includes network acceleration, file delete recovery and fast metadata analytics, good for many vertical markets, including media and entertainment, as well as science and education.
RozoFS claims it improves performance for its mid-size to enterprise customers through the use of RDMA over Converged Ethernet (RoCE v2). RDMA transfers data directly between the RozoFS memory and the network adapters on both the RozoFS storage servers and clients, eliminating the OS-generated data buffer copies when using TCP/IP. Benefits include reduced latency, increased network bandwidth, lower CPU consumption and superior use of high-speed memory.
RozoFS 3 is speeding up SMB access by optimizing the protocol. It provides the most requested data recovery feature: the ability to retrieve accidentally deleted files. RozoFS can be configured so files are not erased on deletion, but are kept along with their deletion date in a parallel trash namespace, it claimed. The delayed delete service can be tied to policies that later complete the deletion based on criteria such as elapsed time from the deletion date, thereby keeping data management and protection a simple set-and-forget operation.
A new API makes searching metadata information faster than interrogating the file system using the POSIX interface. Scanning file systems based on metadata criteria is reduced from hours to seconds for large-scale petabyte file systems. This paves the way for linking RozoFS across sites and with the cloud.
Rubrik
Rubrik has announced the 4.1 release of Alta, its Cloud Data Management platform. It adds support for the Google Cloud Platform (GCP) integration and broadens support for Amazon Web Services (AWS) and Microsoft Azure.
The GCP support means cloud archival support for all classes of Google Cloud Storage (Nearline, Coldline, Multi-Regional, and Regional.)
It adds support for Amazon Glacier, completing support for all storage classes of AWS – Amazon Simple Storage Service (Amazon S3), Standard-Infrequent Access (Standard IA), and Glacier.
Alta 4.1's CloudOn instantiation services support both AWS and Microsoft Azure, providing "server-less" conversion of VMs to cloud instances. Rubrik also supports Azure Stack.
Rubrik supports Microsoft Azure's GovCloud and AWS GovCloud, and is an Advanced Tier Technology partner in the AWS Partner Network (APN).
With Rubrik 4.1, administrators can assign granular permissions to managed objects (e.g., assign Oracle DBs to Oracle Admin) to accelerate the self-service delivery of protection policies, recoveries, and analytics reporting across a multi-cloud environment.
Synology
Synology has launched the DS418play, the successor to the DS416play, and a 4‑bay NAS serving as home multimedia center. It is equipped with:
Intel Celeron dual-core 2GHz processor.
2GB DDR3 – 1866 memory (expandable up to 6GB).
Dual-channel H.265/H.264 4K video transcoding.
New hardware transcoding engine supports up to two channels of H.265/H.264 4K video transcoding.
AES‑NI hardware accelerated encryption.
Delivers encrypted data throughput at over 226MB/sec reading and 185MB/sec writing.
Runs on DiskStation Manager (DSM) 6.1 operating system.
The product has a 2‑year warranty and the RRP is £446.18 (including VAT) or €409.00 (before taxes).
Tintri
The Tintri T1000 array, which was announced yesterday, includes 13 x 240GB SSDs.
That's an odd number of SSDs. Why was it chosen?
Tintri said: "The drive configuration is 13 x 240GB with 11 empty slots. There are 24 slots in the chassis we selected. However, Tintri optimizes together the flash capacity and the controller memory and CPU to maintain predictable performance for our target workload of up to 100 VMs across the whole capacity. 10TB effective was the target combined with the CPU and memory selected. Allowing for additional capacity on this model would not be optimal for performance.
"In addition, supplies of drives smaller than 240GB are harder to find and more expensive to maintain for the lifecycle of the array, so while 24 x 120GB would have been the "ideal" solution to give us roughly the same capacity, cost and supply chain considerations led to the 13 x 240GB drive configuration while still allowing us to optimize capacity and performance and to hit the price point we were targeting.":
The T1000's list price is under $40K. The price includes one year of gold NBD support, replication, encryption and TGC standard.
It might be that the X‑IO Technologies' ISE 900, which does not have the Tintri array's VMware-friendly facilities, to be less than that.
Turbonomic
Cloud management concern Turbonomic has turned its attention to storage, adding multi-cloud auto-tiering to version 6.0 of its product.
Turbonomic's main play is figuring out what workload belongs where, be that on-premises or on IaaS. Once that decision's made, the company's wares ensure that the workload consumes resources commensurate with its needs, rather than leaving users paying overs for capacity they don't really need.
The company can now consider cloud storage services as it makes those calculations, figure out where data belongs, and automatically move it between tiers. Those efforts should ensure wallets remain heavy, while data remains available and protected.
Version 6.0 can also do likewise for cloud databases, another new addition to the company's capabilities. The quarterly upgrade also adds support for Hyper‑V on Windows Server 2016.
The company told The Register its next move would be to automate use of resources on Azure Stack boxes.
WDC
WDC's ActiveScale object storage has been refreshed with v5.1, which features:
Up to 52PB of scalable storage – pre-announced a few months ago.
Dynamic Data Placement technology – enables upgrades and additional capacity in a single namespace without sacrificing performance or data durability.
Variable storage capacity – ensures data durability and scaling within and across systems with different capacities, allowing customers to upgrade their hardware across drive and system generations.
WDC suggests you point your browser here to find out more.
Finally:
SanDisk Industrial SD and microSD Cards and SanDisk Industrial Extended Temperature SD cards (for trusted performance under extreme temperature conditions of -40oC to 85oC) are built with the endurance and reliability needed in the industrial and commercial industries, for the workloads of IIoT, commercial surveillance, medical and other intensive "connected" applications over extended periods of time.
New higher-performance SanDisk Automotive SD Cards are built to meet the demands of the automotive market, being compliant with the automotive AEC-Q100 Grade 3 standard (operating in ambient temperatures of -40oC to 85oC). They are intended for a wide array of in-vehicle applications and systems, including navigation mapping systems, data event recorders, infotainment systems and more. ®