This article is more than 1 year old
Big iron storage supplier Infinidat blags more o' that sweet VC cash
$95m to satiate its appetite for gutbusting growth
Analysis Moshe Yanai's Infinidat has gained $95m in third-round funding and wants us to know that it's not a debt-fuelled Silicon Valley extravaganza of a startup like others that have crashed and burned or gone through bought-at-a-discount acquisitions.
Infinidat was founded in 2010, took in $80m around 2012, $150m in 2015 and has notched up $325m in total funding with the latest C-round, bring its value to $1.6bn. We're told it has enjoyed a a 33 per cent increase in valuation in less than two-and-a-half years because of its growth in revenues.
It is profitable and has been growing for 13 quarters, with 250 per cent year-on-year growth for this year's second quarter. The company has several hundred customers for its high-end InfiniBox arrays, and more than 2EB of deployed storage, each InfiniBox managing over 5PB of data.
The new cash will be used to expand its R&D pipeline capacity, scale out sales and marketing, and attack new market segments and geographies. The lead investor was Goldman Sachs Private Capital Investing (PCI) with strong participation from the second-round leader, TPG Growth.
The InfiniBox is not an all-flash array, using disk storage, clever software and memory caching for speed. CTO Brian Carmody said: "While the rest of the industry was pivoting to small, expensive, all-flash arrays (AFAs) to keep the cost per GB as high as possible, we built a new software architecture that is expressly designed for the coming decade of hyper growth in the petabyte-scale market; our solution is a fraction of the cost, and runs circles around the incumbents with respect to performance and reliability."
What does he mean? Infinidat claims that, seven or so years ago, given the exponential growth of customers' data footprints driven by the explosion of third-platform workloads, customers were asking for much larger, low-latency storage systems with profoundly lower $/GB for the next decade. That's what it saw anyway.
Other suppliers saw customers asking for lower-latency storage with SSDs as the obvious route to provide this and a need to provide fast access to only a proportion of a customer's data – the latency-sensitive subset – the flash and trash idea, so to speak.
All the legacy array vendors and a bunch of startups went the all-flash array route, the flash and trash way, except Infinidat, they say. It points out that the lead AFA startup, Pure Storage, is not profitable and uses debt to buy growth.
Pure's second quarter (ended July 31) revenues for fiscal '18 grew 37.6 per cent year-on-year to $224.5m and there was a net loss of $61.7m. Other AFA vendors have crashed (Violin Memory) or been acquired (Nimble, SolidFire, Tegile, TMS).
The legacy storage array vendors – Dell EMC, HDS, HPE, IBM and NetApp – offer AFA versions of their existing arrays plus new designs. These can coexist on-premises through unified data management services. Infinidat would say that, where other array vendors need two storage architectures to cover customer needs for low latency (flash) and high capacity (disk) data storage, it can do both with its single InfiniBox architecture, and at a lower cost with higher performance.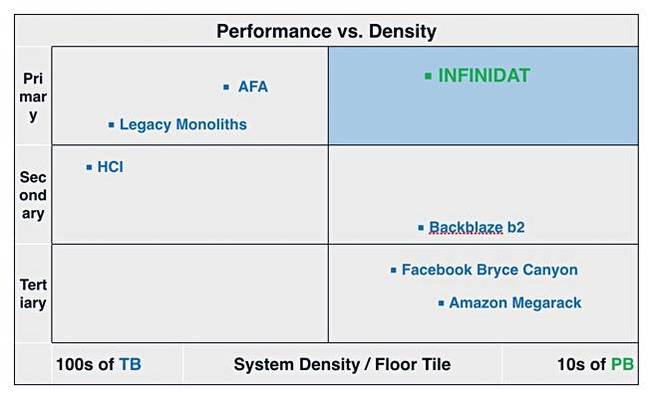 Infinidat InfiniBox market positioning slide
+RegComment
We can expect Infinidat to move its arrays down market and add more data services. El Reg thinks that Infinidat isn't wedded to disk for capacity and that, should a better capacity storage tier come along (QLC flash), then it might embrace that.
We also understand that Infinidat is not gunning for an IPO but is concerned that, if it does, it does not end up a fiasco with a post-IPO stock price crash. Possibly it hopes that the fact that it is profitable, and not reliant on debt to buy sales and grow, will reassure investors. They'll keep their shares and not flip them for a quick buck or get out because the stock price is falling.
Infinidat likes going against the crowd. Moshe's way is not the general highway. We can't see anything on the horizon to slow Infinidat down except, maybe, NVMe-over-fabrics arrays. These, though, will still be all-flash arrays and lack the capacity of an InfiniBox. If Infinidat can match NVMe-over-fabrics array access closely enough then all will be well. If not, it's going to be fun seeing what Infinidat will do. ®