Tens of thousands of tourists flocked to Florida's theme park town of Orlando last week, but they weren't there to see Mickey; they were there to imbibe the new wares at Microsoft's Ignite, which focuses on cloud computing and IT administration.
Ignite is now Microsoft's core conference, since cloud and server, rather than Windows PCs, is where the company attention lies.
There were more than 25,000 customers present, according to communications chief Frank Shaw, across both Ignite and Envision, the latter a smaller event aimed at "business leaders" that ran alongside.
The buzz was positive, reflecting the facts that the business is growing – revenue was up 13 per cent year on year in the most recent financial quarter – and that transition towards Office 365, Azure and other cloud services is bringing plenty of opportunity to partners.
What did we learn? CEO Satya Nadella launched his book, Hit Refresh, which like all books of its type is a sanitised rather than revelatory account of change at Microsoft. There are still points of interest, perhaps the most important being Nadella's belief in diversity and inclusion, which seems to be both genuine and significant in developing the more consensual culture that has now evolved at the company. We also learn how his parenting of a son with cerebral palsy has energised endeavours to improve assistive technology.
Nadella also outlines three areas of focus for future growth, these being artificial intelligence (AI), Mixed Reality, and Quantum Computing. The idea seems to be that after losing in mobile but prospering in cloud, these are good bets for the next big thing.
Nadella also touches on a few key decisions in his career. One for which he deserves credit is overseeing the rescue of Azure, which was in poor shape when he took over server and tools in January 2011. He appointed Scott Guthrie and others who set about making it what it is today.
Microsoft's Phone division: Is that regret we hear?
Another was the abandonment of Windows Phone. "We should only be in the phone business when we have something that is really differentiated," he writes. It may have been a mistake. He never gave the Nokia acquisition a chance to succeed. Nadella himself conveys doubt. "What I regret most is the impact these layoffs had on very talented, passionate people in our phone division," he says. Nor is his rationale convincing.
He also describes how he took charge of Bing in 2008, facing a similar uphill struggle versus the competition, but with a determination to make it work. Why was Windows Phone different?
Still, a benefit of retreating from mobile is that it further energised Microsoft in its cross-platform efforts. In March 2014, Nadella announced Office on iOS and Android. "We had these versions in the works for some time," he says, but he took the decision to launch.
Linux is another case. Nadella and Guthrie made an early decision to support Linux on Azure, based on demand. Now it is baked into Windows 10, and Ignite saw the release of SQL Server on Linux.
Project Honolulu and remaking Windows Server
Project Honolulu was not announced at Ignite itself, but a few days before. It is a means of managing Windows Server from a web browser, using WMI (Windows Management Instrumentation) and remote PowerShell under the covers. It is currently a technical preview, but already useful. Once you have installed the server application you can manage any server on the network, using alternate credentials where needed.
It is already more powerful than the desktop server manager. You can monitor performance, browse files, view the event log, manage the firewall, edit the registry, add or remove roles and features, stop and start services, manage Hyper-V virtual machines and switches, view and end processes, manage storage, manage local users and groups, apply updates, view and disable devices, and more.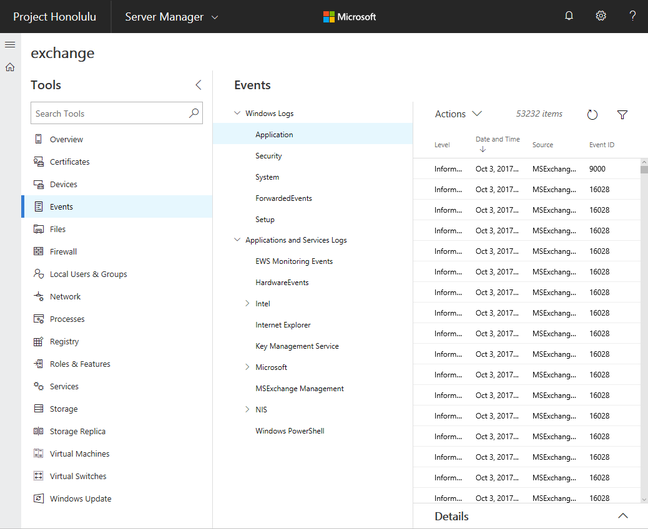 Project Honolulu, a browser-based replacement for Server Manager
Project Honolulu makes managing Server Core easier and more palatable, and should increase adoption. It is part of the evolution of Windows Server from a monolithic GUI server to a componentised system that is leaner and more amenable to automation. It also makes the free Hyper-V Server, which has no GUI, a more compelling proposition.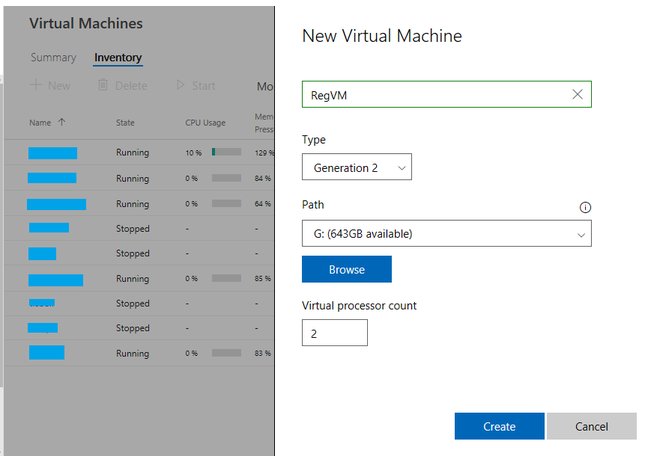 Creating a virtual machine via the browser
Otherwise, this was not a big Ignite for Windows Server news as such, though Microsoft did state that both the Windows Subsystem for Linux and support for Linux containers with Hyper-V isolation is in the latest update (1709), available for those with software assurance.