This article is more than 1 year old
Oracle CEO Mark Hurd reads 'mean tweets' about his 2025 vision
Big boss has a Trump moment after his 2016 predictions were trashed
OpenWorld 2017 Oracle co-CEO Mark Hurd appears incapable of shrugging off criticism of his predictions for the state of cloud computing in the year 2025.
During Monday's Oracle OpenWorld keynote, he decided to hit back at his critics with something a little more adversarial than expected.
In a moment reminiscent of celebrities reading less-than-kind social media feedback on talk shows, or perhaps President Trump's late-night tweet storms against his detractors, Hurd flashed up on the big screens a shot of some "mean tweets" he'd received about his cloud predictions.
These predictions of his, made at least year's OpenWorld, included suggestions that 80 per cent of IT spending would be on cloud services, that the number of corporate-owned data centres would drop by 80 per cent, and that there would be two SaaS providers by 2025.
Not everyone in the industry agrees with him, funnily enough, which has upset our big boy Mark.
#Oracle working to re-position itself as a cloud leader. Full focus of Ellison & Hurd #OOW17 keynotes was on Oracle cloud-based PoV & offers pic.twitter.com/siHMJpqrPb

— Rhett Dillingham (@rhettdi) October 2, 2017
"They're predictions, so you'd think that not many people wouldn't find them that challenging; you wouldn't get that much negative commentary," Hurd said on Monday.
"But let's introduce some of these mean tweets that we got. Because there's some people who thought that this was just wrong. And there's some commentary in here that I don't think is really that thoughtful."
Hurd had apparently wanted to name and shame the people that dared to question his opinions, but was overruled.
"I thought it would be more pertinent to put people's names on these tweets, but I got overruled by the handlers and legal eventually … But it loses some of the impact, I think accountability is a big thing."
Nonetheless, he continued to pick out a couple of choice reactions. On the tweet that predicted Hurd wouldn't make it to 2025 as co-CEO of Big Red, he said: "Is that the best they can do… it's awful."
Mark Hurd is now going through the "mean tweets" he's had after making predictions for 2025 #OOW17 pic.twitter.com/SWcbpvRw0h

— Beki Hill (@BekiHill) October 2, 2017
Another comment that seemed to get up his nose harked back to last year's keynote – when Hurd used audience participation to put his predictions to the test – and came directly from your very own El Reg and its OpenWorld 2016 report. (Obviously we're thrilled to know he's a fan.)
Our coverage at the time read: "When he put the veracity of his predictions to the audience test, the response was overwhelming – none of them would come true, according to the wisdom of the crowd."
In a bid to demonstrate how little he cared about that kicking, Hurd spent the next few minutes pulling up various pieces of research that supported his worldview, which he was at pains to add was "not from the Mark Hurd research department."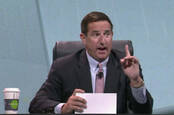 Lack of Hurd mentality at Oracle OpenWorld: Co-CEO's cloud claims fall flat live on stage
READ MORE
For instance, he used IDC research data ("in this case I'm a very big supporter of IDC, because they agree with me", Hurd added) that showed that the number of data centres was on the decline.
Then, he pointed to a prediction from Cisco that 87 per cent of production workloads would be in the cloud by 2025 - seven percentage points higher that Hurd's own guess.
Summing up this section of his keynote, Hurd said that he would give some more predictions - not today, but soon - and added: "I wouldn't tweet unless you're really confident in your point of view."
The main thrust of Hurd's speech was on the importance of cloud, combined with the increased pressure on companies to secure their systems and manage risk. This was followed by a parade of friendly customers, who waxed lyrical about their great Oracle cloud experience. ®