This article is more than 1 year old
Blockchain, AI, chatbots, cloud … Oracle bingo!
Big Red has all this year's big buzzwords covered
OpenWorld 2017 Oracle has launched an enterprise-grade blockchain cloud service, as part of a flurry of announcements at its annual OpenWorld conference in San Francisco.
Amit Zavery, senior veep for Oracle Cloud Platform, said that the service would "accelerate innovation for on-premises ERP and cloud-based SaaS and PaaS customers". The company also promised its blockchain will be resilient, scalable and secure blockchain platform that the company said will help customers to reduce costs and risk, while creating new revenue streams. Oracle said that outcome will be achievable once organisations use the service to automate and secure transactions, and provide a reliable way to share information inside and outside the enterprise boundary.
Fine sentiments, but Oracle is a few steps behind some of its competitors in offering customers access to the distributed ledger technology, with Microsoft and IBM already providing blockchain-as-a-service.
Zavery later told a media briefing that by choosing Oracle's blockchain cloud service, customers reduced the risk associated with using the trendy technology, as Oracle will monitor innovation in the field and regularly update its service.
He added that the service was in the early adopter phase, with general availability due for the end of this calendar year.
Big Red also revealed the next generation Oracle Exadata X7, which it said had "significant" hardware and software enhancements to overall performance, storage capacity, network bandwidth and - of course, given this year's big ticket announcement - automation.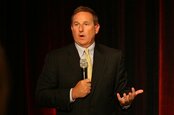 Oracle CEO Mark Hurd reads 'mean tweets' about his 2025 vision
READ MORE
"Specialized algorithms vastly accelerate all types of database processing including OLTP, analytics, and consolidation," Big Red said.
"Exadata's full-stack automation and optimization of all components slashes the need for skilled human labor, enabling reduced costs and improved reliability. Exadata's simplicity, scalability, and reliability."
Elsewhere, Oracle whipped out a number of artificial intelligence-related announcements, with CEO Mark Hurd telling a media briefing to expect to "hear a lot about AI" at this week's OpenWorld conference.
"AI to us is a lot less about just AI as a solution, but more about applying AI in the very specific applications, so AI integrating into HR applications, or into sales applications," he said.
The CEO offered the example of Oracle itself to explain how this works, by revealing that Big Red hires a lot of people and could use AI to "understand through the computer what makes them more successful at Oracle than some other group of people".
Hurd also revealed news of AI-infused business applications for finance, HR, supply chain and manufacturing in existing Oracle cloud applications.
There will also be AI-powered "intelligence bots" to help enterprises engage with customers on Oracle's mobile cloud after a collaboration with messaging biz Chatbox. This, Oracle said, would allow chatbots to switch between unstructured and personalised, structured conversation.
The company also detailed enhanced performance on Oracle's HCM, EPR and CX clouds, and new data lake, AI and data integration capabilities on Oracle's Big Data Cloud Platform. ®