SonicWall has updated its product range with an eye on ransomware and mesh networking.
The privately owned network security vendor last week released six security products and services designed to accelerate speed thresholds across wired, wireless and mobile networks. In particular, the portfolio will include a high speed firewall, a cloud analytics service, and a series of wireless access points.
The NSA 2650 firewall enables threat prevention over 2.5 Gbps Ethernet wired and 802.11ac Wave 2 wireless networks. The device offers TLS/SSL decryption and inspection. The box works alongside the SonicWall Capture ATP service, a cloud-based, multi-engine sandbox designed to discover and stop unknown, zero-day attacks, such as ransomware.
The formerly Dell-owned security firm was spun out as a standalone business last November in a $2.4 billion software business disposal that also resulted in the sale of Quest Software and other businesses. SonicWall president and chief exec Bill Conner told El Reg that Dell remains its largest reseller.
The CEO added that the firm has added 5,000 new networking resellers to its roster since last November's split from Dell, with many of the new intake coming aboard because they are now happy to work with an independent SonicWall, as opposed to a Dell subsidiary.
The 30 year cyber-security veteran, and one-time chief of Silent Circle, said fighting ransomware is the company's new strong suit (and front and centre in its marketing).
SonicWall Capture Advanced Threat Protection Service, a cloud-based subscription service available with SonicWall firewalls, is designed to quarantine threats at the gateway. The uses multi-layer sandboxing, including full system emulation and virtualization techniques, to analyse code that acts suspiciously.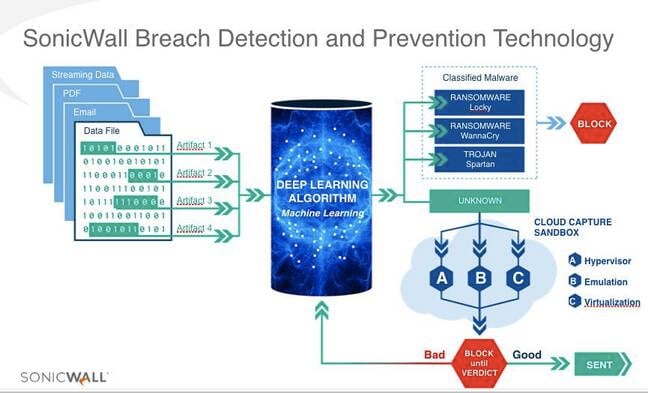 SonicWall aims to block malware at the firewall
SonicWall focuses on catering to the needs of small and medium size businesses. Conner said the company already has a million installed firewalls and will now push them to SonicOS 6.5, an upgrade that plugs into a cloud-based breach detection platform.
Vikram Phatak, chief exec of network and security kit testing firm NSS Labs, said SonicWall was revamping it product line to meet the needs of bigger enterprises outside its traditional SME customer base.
"The SonicWall product revamp sends a clear message to the market of the company's priorities and intent," Phatak told The Register. "SonicWall has largely remediated the technical debt accumulated under Dell, plus expanded the reach of their technology portfolio so that it is appealing to medium and large enterprises, in addition to their traditional SMB customer base."
Conner explained that SonicWall's product development roadmap features a push towards virtualisation, which he explained would align its security products to industry trends such as a "software defined endpoint" and mesh networking.
SonicWall, was founded 25 years ago by brothers Sreekanth and Sudhakar Ravi. The company initially sold Ethernet cards and other networking gear before diversifying into and developing a firewall and virtual private networking appliances that became a mainstay of its business. These days the firm is also big in UTMs (Unified Threat Management) and email anti-spam filtering appliances. ®