Special report An online college focused on the tech industry is promising to find you a job in six months or it will refund your course fees in full.
OpenClassrooms has also marked its launch in the United States today by offering to supply its basic courses for free to anyone caught up in the decision by the Trump administration to shut down the Deferred Action for Childhood Arrivals (DACA) policy – a decision slammed by Big Tech.
The e-learning outfit offers courses at every level from novice to pro, and covers topics from developing for iOS and Android to writing Ruby code, product management, and so on. There are free courses, a "premium solo" program that costs $20 a month and provides the same courses but with additional materials and completion certificates (and free to Dreamers), and then the main "premium plus" program that includes projects, grading, expert tutelage, and the main elements of a traditional learning course.
To be eligible for the job-or-money-back guarantee, you need to take one of its "path" courses – available only on "premium plus" – which pull together a range of complementary modules and award a "degree" at the end.
The path courses appear to be extensive. They include multiple projects that get harder over time and typically run for 12 months, or longer or shorter depending on how much time you put into the course. There is a flat monthly fee of $300 – and it is this fee that OpenClassrooms promises to refund if you can't find a job within six months of "graduating."
We spoke to OpenClassrooms CEO Pierre Dubuc, and he assured us there were no hidden terms or conditions on the offer: the company's confidence comes from the fact it has been running online courses since 1999 and incorporates an extensive, free, job-finding element into its program. Dubuc claimed the organization has a 99 per cent success rate and an 87 per cent course completion rate.
Of course, this is far from the only outfit offering web courses that will teach you how to code with promises that Google will be knocking down your door once you've finished. The internet is awash with them.
Credibility
What makes OpenClassrooms a little more credible, however, is the fact that in France, and hence most of Europe, its courses are formally recognized as equivalent to traditional degrees. The Paris-based biz also prides itself on working with companies to design its courses so the skills people learn are instantly transferrable to the market – another factor that it claims is behind its high job success rate.
When we met up with Dubuc in San Francisco, he told us one of the main reasons he was in California was to meet both academic institutions and tech companies in order to build the same kind of institutional backing he has in France.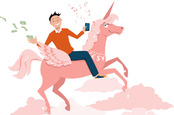 Compsci grads get the fattest pay cheques six months after uni – report
READ MORE
So why launch now before it has finished concreting its relationship with the private sector in the US? According to Dubuc, it is going live now stateside because it has all its tutors and resources in place, and dozens of companies have told him they need qualified people now.
"The problem at the moment is not even qualifications," Dubuc said. "It's the number of people. The current [US education] system is producing 100 to 200 people every couple of years but the market wants hundreds or thousands of them." He claimed 96 per cent of tech companies say they are struggling to grow because of a lack of tech talent.
Dubuc is skeptical of Silicon Valley's efforts to rapidly add people into the tech workforce, which he characterizes as bootcamps that run for one to three months but which he argues simply aren't suited to most people. "People need to start when they want and go at their own pace," he says.
The big question, of course, is: are the courses actually any good? And, connected to that, if there are any good, how can the company do it for $300 a month or around $4,000 in total when a traditional degree in, say, software engineering is going to cost ten times that – at a minimum.
The answer to the second part is that OpenClassrooms uses a peer-review and mentorship approach. And, of course, it is online. Instead of paying professors to develop and mark all their students' work, OpenClassroms creates the course once – including online videos, tuition and quizzes – and then has students grade each others' work when it comes to simple aspects, with the professionals only brought in to mark finished projects. There are roughly 10 projects per path. And there are three million students globally taking courses with the company.
Dubuc claimed that academic studies have shown that the difference in marking between peers and professors is negligible when it comes to everyday work. And the mentorship, combined with online tools that allow students to communicate and assist one another, is what keeps the whole thing on track.
Similar topics