US Senate stamps the gas pedal on law to flood America's streets with self-driving cars
Foes flustered by 'dangerous' light-touch regulation
America-wide rules for self-driving cars inched a bit closer on Wednesday when a US Senate transportation committee agreed to bring the AV START Act before the full Senate for consideration.
The American Vision for Safer Transportation through Advancement of Revolutionary Technologies (AV START) Act, due before the Senate, is twinned with a House bill to regulate autonomous vehicles, SELF-DRIVE Act, which was approved last month.
"This legislation proposes common sense changes in law to keep pace with advances in self-driving technology," said Senator John Thune (R-SD), chairman of the committee in a statement. "By playing a constructive role in the development of self-driving transportation systems, our government can help save lives, improve mobility for all Americans – including those with disabilities, and create new jobs by making us leaders in this important technology."
One difference between the two bills is that the Senate legislation prevents states from denying a person a license to operate a self-driving vehicle due to a disability. Advocates for the disabled see autonomous vehicles as an opportunity to provide transportation for people cannot presently get around on their own.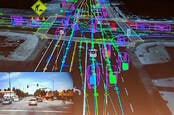 House Reps grease the wheels for hundreds of thousands of robo-cars on America's streets
READ MORE
Assuming the two bills can be reconciled and the result signed into law by President Trump, the federal rules will provide technology and transportation companies greater clarity and consistency than the patchwork of state laws that exist today.
And that needs to happen sooner rather than later. On Wednesday, a startup called Voyage launched an autonomous taxi service in The Villages, a 4,000-person retirement community in San Jose, California. Alphabet's Waymo, meanwhile, is said to be aiming to debut a ride-sharing service involving self-driving cars near Phoenix, Arizona, later this year.
Municipal officials, however, are none too pleased with what they see as a federal power grab. The National Association of City Transportation Officials (NACTO) expressed dismay that the AV START Act threatens to make road less safe because it prohibits local governments from imposing or enforcing local laws that place an "unreasonable restriction on the design, construction, or performance" of an automated vehicle.
By not defining what qualifies as an "unreasonable restriction," NACTO argued this week that the proposed Senate bill would lead to "an endless series of lawsuits."
The group also takes issue with the parsimonious data sharing provisions, noting that the bill only requires vehicle makers to publish an annual public safety report. City and state governments, as well as law enforcement, it argued, need access to real-time data to maintain the transportation infrastructure and to ensure public safety.
Advocates for Highway and Auto Safety, an organization formed by insurance company representatives and public safety advocates, also expressed displeasure at the Senate's rule-writing efforts. The group contended light-touch regulation will cost lives by exempting autonomous vehicles from automobile safety regulations and treating drivers as crash test dummies.
"The AV START Act takes a dangerous hands-off approach to hands-free driving," said Jackie Gillan, president of Advocates for Highway and Auto Safety, in a statement on Monday. "It lacks adequate government oversight and industry accountability." ®