Block H has been declared one of England's "irreplaceable places", the National Museum of Computing has joyously announced.
For those wondering why on earth TNMOC is preserving the women's prison block from the 1990s Aussie telly series Prisoner: Cell Block H, it actually refers to one of the most historic buildings on the Bletchley Park WWII codebreaking site.
Block H was built in September 1944 specifically to house Colossus valve-based cipher-breaking machines, making it one of the world's first ever dedicated computer centres.
The building itself is now included in Historic England's tome A History of England in 100 Places. Part of the entry reads as follows:
Large, plain huts were built in the grounds [of Bletchley Park] and it was here that the Bombe machine, designed by Alan Turing, helped break the Enigma code. This was also where Tommy Flowers created the semi-programmable electronic machine Colossus, the world's first electronic computers. The crucial work of the thousands of people who worked in the wider Bletchley organisation, 75 per cent of whom were women, helped shorten the war by an estimated two to four years and saved countless lives.
A working replica of a Colossus stands today in the exact spot as Colossus No.9 during the Second World War. Colossuses (colossi?) [Yep, the latter – ed] were used to crack the German Lorenz cipher. An emulation of a Lorenz machine is also available on the TNMOC website, as we previously wrote about.
Kevin Murrell, a TNMOC trustee, explained how Block H was originally saved from destruction by the museum's establishment: "In the early 2000s, the Bletchley Park Trust was about to sell off the Block H and surrounding land to developers, but Tony Sale and I felt that the building should be saved from demolition and that it could house our then embryonic museum. The board leased the building from the Bletchley Park Trust and thereby saved it – and the Colossus Rebuild – for posterity."
By the standards of modern bit barns, Block H is somewhat... basic.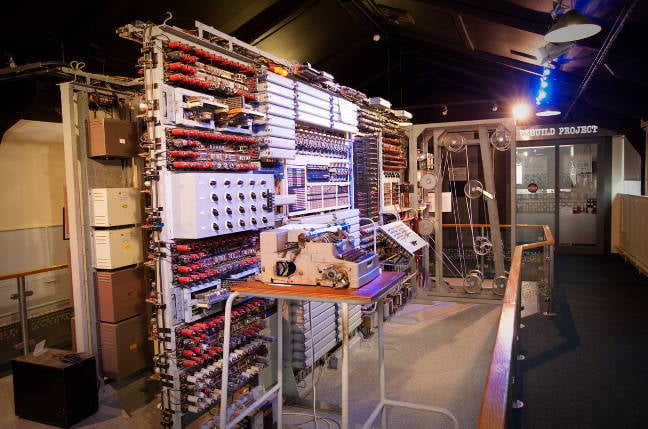 The National Museum of Computing's Colossus replica, standing in Block H at Bletchley Park. Pic: TNMOC
"I am thrilled with this news – I can only begin to imagine the delight that Tony would have felt had he lived to hear it," Murrell added. "The rapid development of the museum in recent years has been enabled by generous sponsors, volunteers, staff and trustees, who include Margaret Sale, Tony Sale's widow, and Tim Reynolds, whose support especially through our onsite neighbours Bletchley Park Capital Partners, has been invaluable." ®