Google touts Babel Fish-esque in-ear real-time translators. And the usual computer stuff
And a slightly creepy but well-intentioned robo-camera
Google today showed off some new Android phones, a laptop, two Home assistants, and a genuine surprise: a set of earbuds that attempt to emulate Douglas Adams' legendary Babel Fish – a real-time language translator.
During the hardware unveiling, an event dubbed Made by Google, in San Francisco a few hours ago, CEO Sundar Pichai – and every single other speaker – hammered the point that the future, as Google sees it, is all about hardware and software being vastly improved by machine learning.
"We're making the shift from mobile first to AI first," Pichai said. "We're thinking hard to move all our platforms to machine learning. We are at a unique moment in time: we can join AI, software, and hardware to bring a different perspective for users."
To that end, Google is improving its AutoML machine-learning software, and hopes to get thousands of app developers using the code to build artificially intelligent apps for the Chocolate Factory's next-gen gadgets.
Ultimately, Google wants to inject machine-learning software into everything and, perhaps importantly for the privacy minded, build it into devices so that your data can be processed exclusively within the gadgets and not constantly sent to backend servers, out of reach, to handle.
Well, that's the marketing faff out of the way. Let's take a look at what was revealed.
The phones – and yes, the 3.5mm jack is dead
Google's gobbling last month of HTC's engineers means the California giant has 2,000 new techies and a bunch of patented technologies to throw at its future phones, according to its hardware supremo Rick Osterloh. Right now, we've got the new HTC-made five-inch Pixel 2 and the six-inch Pixel 2XL to consider.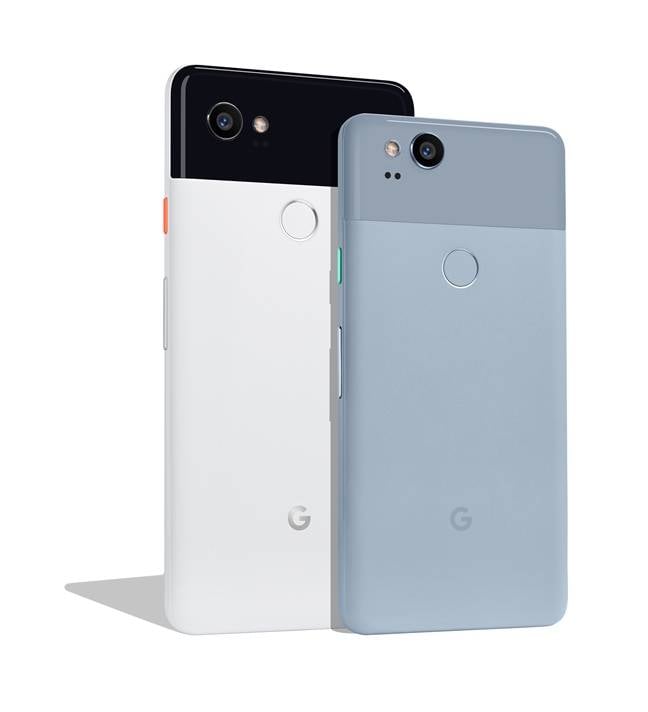 The Pixel 2 ... Available in black, black and white, or "kind of blue," as Google calls it
In a subtle dig at Apple, Google said it didn't discriminate against people who wanted a smaller phone – wanting a smaller screen shouldn't mean you get a slightly weaker device – and so both Pixel 2 handsets have the same camera technology as well as the same hardware specs. They also get unlimited photo and video cloud storage, which Cupertino doesn't offer.
Internally that means a Qualcomm Snapdragon 835 system-on-chip, and 4GB of RAM and 64GB or 128GB of internal storage. They have an eight-megapixel front-facing camera and a single 12.2-megapixel rear camera – Google says it's not going down the twin camera route taken by other because its machine-learning algorithms are so good at enhancing pics, it doesn't need the extra eye. The cameras take microburst shots every time a picture is taken, and then combines facets of all of them to build a final picture.
The original Pixel camera was assessed by benchmarkers at DxOMark, and scored the highest ever rating of 89, Google said. The Pixel 2 camera has come back from testing with an unprecedented 98 rating making it the best camera in the smartphone business, enthused Mario Queiroz, Google's veep of product management. The camera has also been linked to Google Assistant so you can point the lens at stuff and ask the assistant to identify certain objects, as well as recognizing email addresses and phone numbers on posters and signs.
Unfortunately, Google has followed the herd and decided to do away with the 3.5mm audio jack. This no doubt helped it get an IP67 waterproof rating. Luckily, there's a dongle in the box that plugs into the handset's USB-C connector and provides a 3.5mm headphone port. Battery life for the phones is good for a day of hard use, Google claimed, and 15 minutes with its USB-C charger will give seven hours of light use.
As befits a phone going directly against the iPhone, the new Pixels aren't cheap but undercut the Cupertino idiot-tax operation's prices. The Pixel 2 base spec model comes in at $649 and the 2XL starts at $849.