Well, that just about wraps it up for God
The Pixel phones are simple and stylish, maybe without a wow reaction but certainly look sleek. But having had a hands-on session with them, there are some very nice touches indeed. For example, if you squeeze the handset, Google Assistant automatically pops up and asks what you want to know. It's a handy tool and doesn't harm the integrity of the phone, and Google says it'll work even if the phone is in a case.
But the standout accessory that you can buy for the handsets is the Pixel Buds. These in-ear Bluetooth headphones make Apple's EarPods look like crappy bits of plastic and, if the demo is to be believed, could bring us close to having the legendary Babel Fish translator.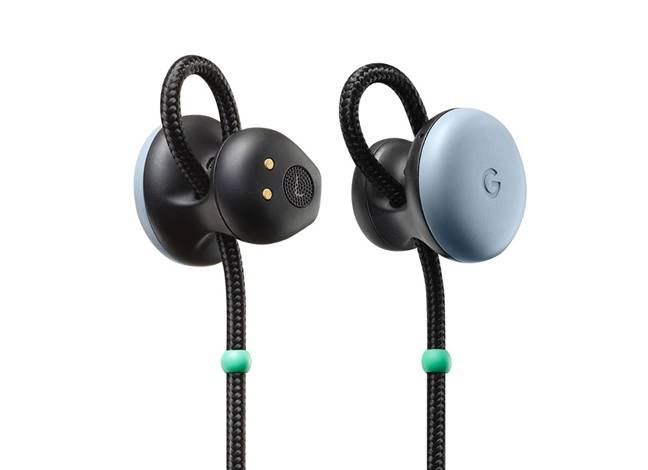 Pixel Buds ... No piscine for your Pixel
The Buds are wired together, and a little controller is built into the right earpiece. A microphone is also built in. You can tap them to start and stop music, hold your finger still to get the Google Assistant to help or read you messages, and swipe forward and back for volume control.
But they can also be used as translation engines. Google demonstrated a conversation between an English speaker and a Swedish speaker during which the paired smartphones listened to and translated the languages on the fly, wirelessly beaming the simultaneous translation to each speaker's headphones. So when the Swedish person spoke, the English person's phone translated the Swedish into English and played it through their headphones. Google said the Buds will work with 40 languages so far, with more to come.
And to be fair, this means the magic happens on the phone and via Google Translate – the Buds are a fancy Bluetooth headphone-and-mic combo that pairs with the handset. It's really a demonstration of Google Translate with some pretty accessories.
The headphones have a five-hour battery life, and the case that holds them also has a battery that, when fully charged, can keep the headphones going for 24 hours of use. The Buds will fast charge in the case using a couple of built-in connectors to transfer the juice.
If it all works as advertised, the technology will be a game changer. The headphones aren't cheap at $159 a pop when they go on sale in November.
Lovely lappy
Google is also updating its Pixel laptop range with the Pixelbook, a laptop with a 360-degree hinge so that it can be used as a tablet or propped open as a viewing screen.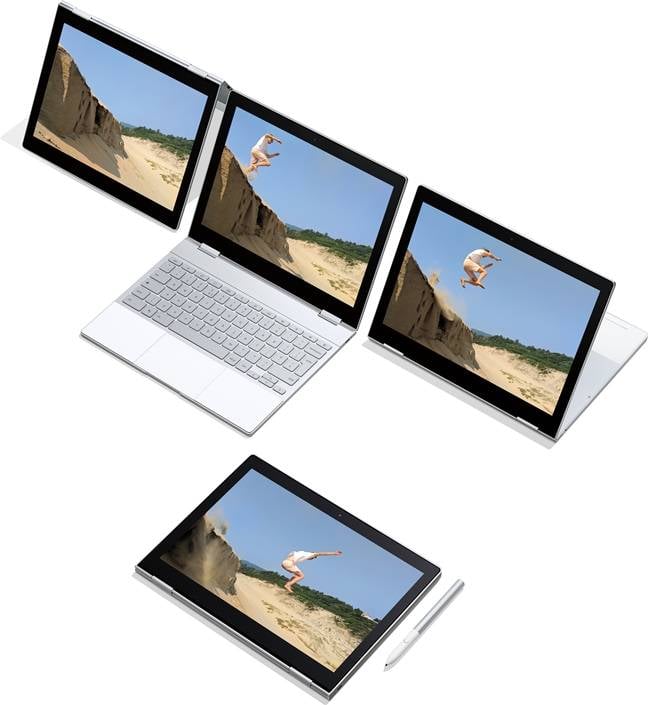 Pixelbook ... Flexible laptop with a smart pen
This laptop is 10.3mm thick, weighs a smidge under a kilogram, and has a 12.3-inch screen. Google was cagey about battery life, but said it would last all day and get a two hour charge in 15 minutes. The keyboard feels comfortable on the fingers, with decent key travel and spacing. Google has also added a button in the lower line of keys to call up the Google Assistant which is built in – a first for the Pixel laptop line.
Under the hood you can chose between an Intel Core i5 or i7 processor and up to 16GB of RAM. Prices start at $999 for the base spec model with 128GB of storage, and run up to nearly $1,700 for the 512GB version with all the bells and whistles.
The laptop runs ChromeOS, of course, and the latest build so that Android applications can run on it as well. However, that all depends on a given app's developer optimizing the software for the desktop OS. Some we've tried looked very poor on ChromeOS, primarily due to sizing issues.
As laptops go, it doesn't have the distinctive design and smooth lines of the Macbook Air. It looks a little boxy and functional but is very well made and looks robust, as previous Pixel laptops have proved.
For an extra $99, Google will also sell you a Pixelbook Pen, built by Wacom. This has a button that automatically summons Google's assistant and, when you bring it to within a centimeter of the screen, it automatically pairs with the Pixelbook using low-power wireless comms.
The pen can be used to search for stuff online by circling a word, image or graphic on the screen. The assistant will then automatically search for information on the circled object. It also operates as a standard stylus with 10ms of latency, 60 degree angular awareness, and more than 2,000 levels of pressure sensing in its tip.
There's no clip or way to attach it to the laptop, however, meaning a lot of these are going to get lost. It's powered by a removable AAAA battery, so you don't wire it up to charge – just pop a fresh battery in the Pen when its current one runs low.