Microsoft Edge shock: Browser opts for Apple WebKit, Google Blink
On iOS and Android, cough
---
Microsoft has released a beta version of its Edge web browser for Apple iOS and Google Android devices.
The Redmond windows fitter said it created the ports as a way to let iPhones and 'droids better communicate with Windows 10 devices. Neither will look to directly compete with Chrome or Safari, but rather will be a custom option for those who want to better integrate their phones with Windows 10.
In addition to the Edge user interface – but not the guts, more on that later – the Edge mobile browsers will have the ability to share pages to a user's Microsoft account and have them show up on their PCs.
"Microsoft Edge for iOS and Android brings familiar features like your Favorites, Reading List, New Tab Page and Reading View across your PC and phone, so, no matter the device, your browsing goes with you," Joe Belfiore, corporate vice president of Windows and devices for Microsoft, boasted on Thursday.
"But what makes Microsoft Edge really stand out is the ability to continue on your PC, which enables you to immediately open the page you're looking at right on your PC—or save it to work on later."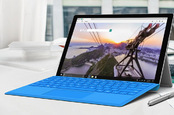 Unloved Microsoft Edge is much improved – but will anyone use it?
READ MORE
Don't however, expect the mobile browsers to have a lot in common with their desktop counterpart: Microsoft said it hasn't ported its EdgeHTML engine for either operating system.
"On iOS, we are using the WebKit engine, as provided by iOS in the WKWebView control. That means that from a compatibility perspective, Microsoft Edge for iOS should match the version of Safari that is currently available for iOS," explained Sean Lyndersay, Microsoft Edge principal program manager lead.
"On Android, we are using the Blink rendering engine from the Chromium browser project. This approach gives us more control and better performance than using the Android WebView control, but means that we are shipping our own copy of the rendering engine in the app."
So in other words, Microsoft's Edge on iOS uses the Apple-championed WebKit, and Google's Blink on Android, to render pages. On iOS, it's pretty much required to use Cupertino's engine.
In addition to the browsers, Microsoft is also emitting a custom Launcher application for Android devices that lets handsets and tablets add Microsoft apps and PC sharing features directly to the Android launch screen.
To get the iOS browser, users will need both a Windows Insider and an Apple TestFlight account. The Android browser and Launcher previews will require Windows Insider and Play Store Early Access. ®