Analytics flinger Splunk has slammed Oracle for what it describes as a "fundamental lack of knowledge and understanding" of the cybersecurity market.
On Tuesday, as is the norm for his keynotes, Big Red founder and CTO Larry Ellison singled out a competitor's products, and focused on its downfalls. But this time, rather than choosing one of the really big boys like Salesforce or Amazon, billionaire Lawrence decided to pick on Splunk, saying the biz's offering "is not a connected system".
A canned statement emitted from Oracle's long-suffering flacks also set out three ways in which its new Oracle Management and Security Cloud betters that of Splunk, including that it can only be used by data scientists and leaves data in silos.
In response, San Francisco-based Splunk's CEO Doug Merritt pulled no punches with a blog post headlined: "Splunk Fires Back at Ludicrous Larry".
"The thing that worries me the most about Oracle's apparent new data offering isn't their deep misunderstanding of how and why Splunk is able to so effectively deliver amazing value to our customers," Merritt wrote. "It's their fundamental lack of knowledge and understanding of the security market."
Cybersecurity is "serious business," Merritt added. "It's not time for rhetoric from a company with a record of under serving and gouging their customers."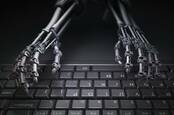 Splunk goes native with machine learning, aims to speed up monitoring
READ MORE
He then unpicks the claims made by Oracle, starting with the accusation that analytics biz Splunk leaves data in "disparate vendor silos." Not quite so, said Merritt, arguing that its customers index "petabytes of data a day from hundreds to thousands of data sources".
Splunk "turns data into answers, applying schema on read to give structure to the data when you ask the question and not force entities when you write it (presumably to an Oracle database which is... again… convenient)," he said.
And the idea that Splunk's machine learning toolkit requires data scientists to use it is "just wrong", Merritt continued. "We make machine data accessible, usable and valuable to everyone and we're doing the same with machine learning."
Data scientists who want to build their own algorithms can do so. However, Merritt added that Splunk's latest offering integrates machine learning into its intelligence services, so anyone can use it.
Finally, in response Ellison's claim that Splunk has "no remediation capability", Merritt said it has "direct integrations with the top security vendors" that allows security analysts to handle threats.
"We integrate with industry-leading automation, provisioning, helpdesk and ticketing systems, so if Splunk spots an incident, we work with your heterogeneous IT landscape to take the right action," he said.
And, saving the best until last, hitting Larry where it really hurts, Merritt ended the blog by offering Oracle a free cloud trial of Splunk, saying it may help Oracle improve on its failed bid to retain its title in sailing comp the America's Cup. And Larry is still, we assume, extremely sore after his Oracle sailing team was thoroughly spanked by New Zealanders earlier this year.
"We've been bringing machine data from trains, planes and automobiles into Splunk for years. We can bring in boat data as well," Merritt said. "There's a free cloud trial of Splunk that could help you analyze the Oracle yacht data. We realize it's a bit late for that this year. We're happy to help you try and win the America's Cup back next time you compete."
Ouch. ®