This article is more than 1 year old
Is that a bulge in your pocket or... do you have an iPhone 8+? Apple's batteries look swell
I fear big batts and I cannot lie. Y'all better duck and dive...
Apple has said it is looking into claims that the batteries in its new iPhone 8 Plus phones are swelling and cracking their cases.
A number of fans from across the world have reported problems with their shiny handsets, with some posting images on Twitter.
The first reported swelling came from a Taiwanese owner who posted pics of her burst mobe online. She was swiftly followed by another person in Japan who uploaded a photo of his iPhone 8 Plus screen becoming detached from the rest of the device. Another report then popped up in Hong Kong.
Then there were reports from Canada – where one user told MacRumors that he plugged in his new phone and had to return it the next day because it has swelled up and cracked the case. There was another case in Greece.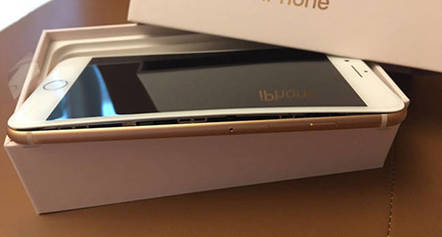 Warped ... One of the burst iPhone 8 Pluses
Apple, at first, took its traditional approach of looking down its nose at the complaints and refused to say anything. However, when Chinese state media reported on the problem Friday, the Cupertino idiot-tax operation deigned to recognize the issue.
ThePaper.cn wrote a story about a user whose iPhone 8 Plus had arrived already cracked open. There was no external sign of burning nor any chemical reaction, and the phone's insides were exposed.
In another Galaxy, far, far, away
The reports bear an ominous parallel to similar problems reported with Samsung's Galaxy Note 7 last year when a handful of phones caught fire – and the issue quickly exploded to include more than 100 allegations of self-detonating li-ion batteries, and led to a mass recall of the Android handset.
So far, there are no reports of fires, only swelling, and Apple is no doubt praying that the drizzle of complaints doesn't turn into a flood.
Samsung initially tried to blame the fires on punters not using the official charging cables, but Apple has, so far, wisely chosen not to go that route, especially since some users have said they did use the official Apple charging cable.
Samsung also offered to replace specific phones in an effort to contain the disaster. But by the time the South Korean biz had tracked the mini-explosions down to a battery-making factory, it was too late – and it was forced into an embarrassing and damaging recall.
Apple has issued recalls in the past. Last year, it acknowledged a glitch left the iPhone 6 Plus touchscreen inoperable as a result of controller chips losing electrical contact with their motherboards.
"Apple has determined that some iPhone 6 Plus devices may exhibit display flickering or Multi-Touch issues after being dropped multiple times on a hard surface and then incurring further stress on the device," the iGiant begrudgingly admitted.
It also had "unexpected shutdown" problems with some versions of the iPhone 6S and – amazingly – offered to replace affected models' batteries for free. Which implicitly suggested that Apple – gasp! – was in the wrong.
Never wrong
With iPhone 8 Pluses arriving with their cases already cracked, the engineering cockup may put Apple into the very uncomfortable position of not being able to blame others for its flaws.
Yeah, right. We predict Apple will name and shame its battery supplier as fast as it can and point out why it wasn't its fault. Or maybe it will find a way to deny the problem and blame its loyal fans for holding the phone wrong. Or perhaps just put out a thicker plastic band to cover up that crack and tell its customers that it's a good thing. ®