This article is more than 1 year old
Amazon, Azure, Google will eat all the IT. Google, let us be your cake fork, pleads Nutanix
3 IT giants - just 1 on-prem/hybrid stack partner opening...
Analysis An IT trio of giants will soon dominate the market - and there appears to be one on-premises/hybrid stack partner opening, Nutanix told us.
A conversation with Sudheesh Nair, Nutanix's president, revealed the firm's mindset: it envisages three great beasts in the IT jungle – Amazon, Azure and Google – each with their public cloud platforms and easy-to-provision, scale and pay data centre services.
These are moving to providing operational functions as an abstraction layer on top of operational components, such as databases and servers, and, underneath them, raw compute and various tiers of storage.
Enterprises have increasingly looked at the public cloud with fondness, and hybrid on-premises and public cloud IT is the new normal.
On-premises IT isn't going away, but its boundaries are blurring as hybrid IT suppliers try to make the cloud on-premises-like in some ways, and the on-premises world cloud-like, offering cloud-style provisioning, payment, scaling and relative simplicity.
Google hooks up with Scale for cloud collab?! What does it all mean?
READ MORE
Nair said he sees the three dominant public cloud suppliers as a triopoly. Amazon has its de-facto on-premises partner in the shape of VMware, with virtual machines, components and data hurtling between on-premises kit and Amazonian data centres in the cloud. He sees Azure replicating this on-premises presence with its Azure Stack. And Google?
Well, Google will need an on-premises partner to provide the balancing on-premises IT presence to the cloud and hybrid IT infrastructure stack components and abstraction control planes for customers.
That partner role is up for grabs and Nutanix sees itself as a potential candidate for Google's best on-premises and hybrid IT chum.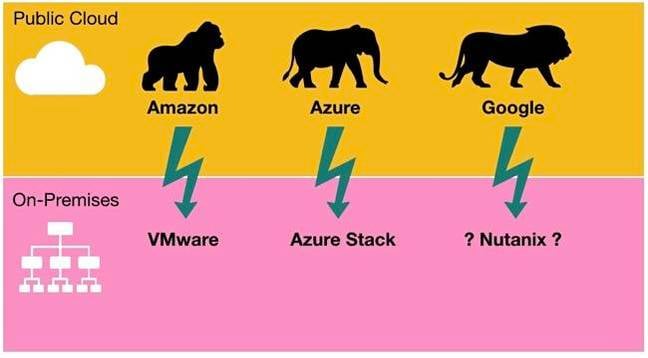 Dell, owning VMware, is set fair for customers relying on Amazon. Microsoft, with Azure Stack will find virtually all suppliers orbiting this on-premises bridgehead sun with support and integration by their product planets and moons.
For Google, Dell, because of VMware, is ruled out. Microsoft hypervisor-using suppliers are ruled out as partners too. Step forward Nutanix, with its KVM-based hypervisor and, bingo, a potential partnership made in heaven.
It can provide the hypervisor match, the data centre control plane abstraction software stacks (HCI, Acropolis, Prism) and Kubernetes use that mirror Google's needs and usage.
Who else, Nair implicitly asks, is in a stronger position?
We can see HPE and IBM as the only other mainstream candidates; Cisco having no enterprise data centre and HDS looking to the Internet of Things with Vantara. Pure Storage is too storage-focussed, and thus game has moved a million miles further on from raw HW/SW componentry. Ditto NetApp.
As we understand it, Nutanix sees itself playing in a huge game with a realistic shot at becoming Google's hybrid cloud partner. Not bad for a sub-billion dollar a year business that hasn't made a profit yet.
It has a better fix on the True North, as it would say, of where enterprise IT is going than any other supplier outside the emerging cloud triopoly, and it will get there faster than its competitors.
This tadpole doesn't want to grow into a frog; it wants to become a whale; Orcus Nutanix, and has no doubt it can make this jump. We're all watching, Nutanix. ®