This article is more than 1 year old
BlackBerry's new Motion will move you neither to tears of joy nor sadness
It's an Android with a few frills and BBM. Fine
First Fondle BlackBerry's new "Motion" handset is a solid Android with some nice touches that, if it lives up to its battery life promises, will be a solid contender for mid-to-premium handset buyers.
The Register got its claws on the phone today at GITEX, the Dubai tech expo where the phone was revealed yesterday.
There's nothing initially startling about the device, although the semicircular top edge is easy on the eye and a pleasing departure from the usual rectangular slab. The device was responsive without being notably swift.
The screen is said to be five times more resistant to scratches than Gorilla Glass 5, but isn't particularly crisp or colourful. Sound from the single speaker was decent, but had trouble with cymbal sounds and never quite felt rich or warm.
BlackBerry's implementation of Android Oreo doesn't make the mistake of thinking it can outdo Google's designers with new UI elements. The result is a standard Android experience that will let you get up to speed with the Motion in minutes. Which might be a little disappointing because it doesn't take long to figure out it's just another well-executed Android.
BBM is aboard, which will be welcome. So will a feature called "Locker", a folder that won't upload its contents to the cloud without explicit biometric authorisation. Both are nice additions, but scarcely a market-making edge.
If the claimed 32-hour battery life is a typical everyday experience, the Motion will be a contender for some business buyers because combined with its mild ruggedisation it suggests utility for field workers. Although with USB batteries now cheap and chargers omnipresent in vehicles, extra-long battery life seems better suited to the absent-minded than practitioners of any particular vocation.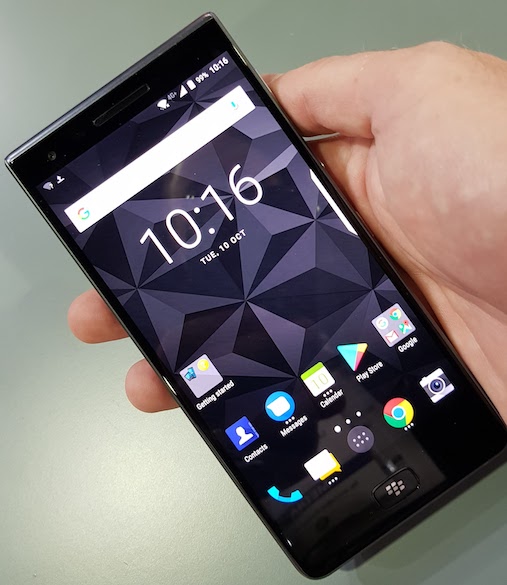 The BlackBerry Motion in Reg hack Sharwood's claw
Overall the Motion didn't stand out among the many handsets on the GITEX floor. It's well built and executed, but passers-by didn't stop to gawk.
A phone that did get more attention, for what it's worth, is the Neffos X1 Lite. This is a very well-executed five-incher with a modest 2GB of RAM, 16GB of storage and an eight-core MediaTek MT6750 SoC. But the X1 Lite's fit and finish make its ~US$100 price tag seem rather too low.
Neffos is owned by networking concern TP-Link, which told The Register it's working to integrate its handsets with its Wi-Fi routers to ensure data flows very swiftly between the two. That's recognition of how much time punters spend using their handsets at home and, to your correspondent's mind, a more immediately interesting idea than anything BlackBerry has baked into the Motion. ®