This article is more than 1 year old
Cortana, please finish my sentences in Skype texts for me
Redmond's AI assistant can now scan your messages and make your more eloquent
If you're really, really awkward in Skype text conversations, or you just want someone to think you're paying attention without all that pesky human interaction, you can now get help from Cortana.
All you need do is add Cortana as a Skype contact – currently, only if you're in the USA, running Skype on Android and iOS – and Redmond's not-at-all creepy service will scan your text conversations, run it through its AI and offer its suggestions.
As shown in Microsoft's FAQ for the service, once you've okayed Cortana to access your texts and location she'll suggest appropriate responses in chats …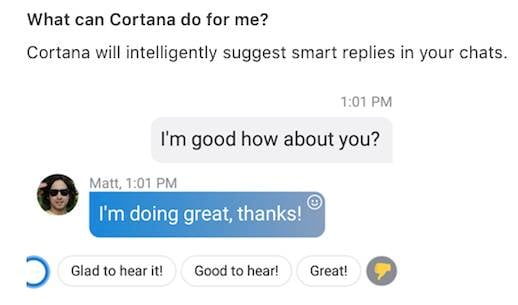 Cortana will help you converse by suggesting responses (bottom row)
… or let you ask, from Skype, the kind of questions you might ask if you use Cortana on your Windows desktop, such as movie lookups: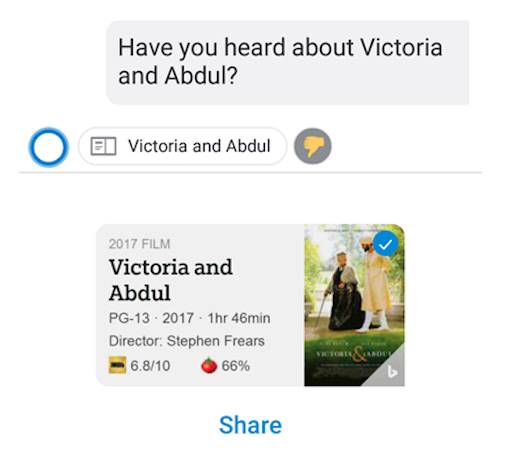 How does Microsoft describe this plastic-pal-who's-fun-to-be-with stuff?
With Cortana's in-context assistance, it's easier to keep your conversations going by having Cortana suggest useful information based on your chat, like restaurant options or movie reviews. And if you're in a time crunch? Cortana also suggests smart replies, allowing you to respond to any message quickly and easily—without typing a thing.
And for the bored or lonely, there's always the chance to chat to Cortana yourself.
Vulture South would note that capabilities like this are a natural objective of Microsoft's decision, unpopular at least among Skype old-timers, to abandon the peer-to-peer model and run conversations through its cloud.
And a sneaking suspicion that this is a handy way to collect AI training data is surely not mere conspiracy theory? ®