This article is more than 1 year old
Has Nexenta's growth stalled?
SW-defined storage maker gets extra cash to start 2017
Has software-defined storage supplier Nexenta's growth stalled? Far from it, its CEO and chairman insisted. It's booming and additional significant funding is coming, apparently.
Nexenta was anticipating a stock-market debut in 2015, but has since had a $7.7m series-G funding round at the end of 2016, and a co-founder has left.
Both of these suggest problems.
Don't bother looking for news of this on Nexenta's press release list, because you won't find it.
Why was the G-round funding needed? Was it sufficient on its own or a tide-me-over round while something more significant was arranged?
It's the latter, said chairman and CEO Tarkan Maner, who told us: "We are working on a FINAL big round before going cash flow positive; and, per the big strategic investor's request, we keep the round details confidential. All I can tell you – it is a big strategic round with a global lead and strategic partners!"
This would be an H-round and the wording suggests double-digit millions of dollars.
The G-round funds came from West Summit Capital and Javelin Ventures, and took total Nexenta funding to $121.5mn, according to Crunchbase.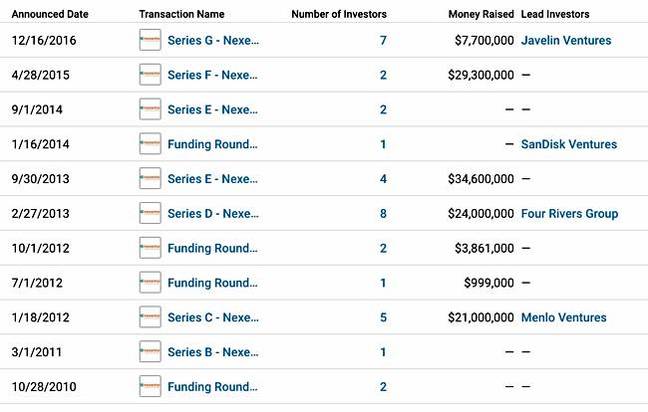 Nexenta funding history on Crunchbase
Back in February 2015, the company took in an undisclosed amount of funding in what it described as a pre-IPO round. Crunchbase listed it as a $29.3mn round.
The company's most recent product announcement was the Nexenta Edge v2.0, a scale-out block, file, and object storage platform, in May this year.
Co-founder Alex Aizman left his CTO role in July last year to join NVIDIA as Chief Storage Architect. Fellow co-founder Dmitry Yusupov then became the new CTO after having been Chief Systems Architect.
Bulking up
Maner said the company has grown to a significant size. "As the SDS (SW-defined Storage) category creator and clear leader, Nexenta also just surpassed $100mn in revenues – cumulative – since inception.
"Yes, we believe we are the only company who has achieved this in Open SDS – and 90 per cent software revenues, not services. [That's] $100m worth of bookings for 2 exabytes SDS sold. It comes to $50,000/petabyte (round numbers) as perpetual licenses and 20per cent maintenance."
This has been done "while growing GM 10 per cent YoY; [we're] now at 80-plus per cent gross margins in fiscal 2017."
The company says it has more than 6,000 engagements and over 2,900 paying customers. It says it is pushing and riding the SDS wave, with this chart illustrating what it means: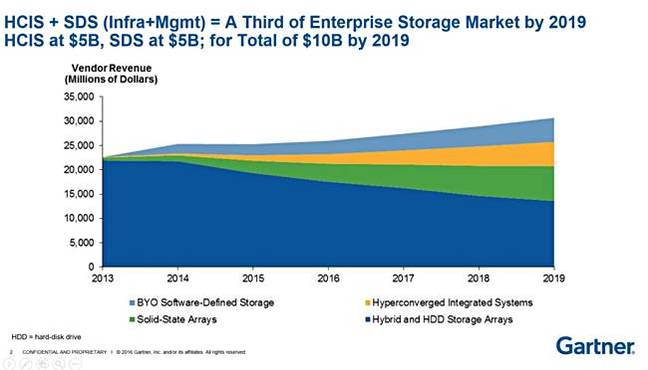 Nexenta says:
By 2019, approximately 35 per cent of the global storage array capacity installed in enterprise data centers will be deployed on Total Software-Defined Storage (SDS) including hyper-converged integrated system (HCIS) architectures based on x86 hardware systems, up from less than 5 per cent today reaching $10B market value.
20 per cent of mission-critical applications currently deployed on three-tier IT infrastructures will transition to HCIS and SDS by 2019.
Container-converged infrastructure is the leading sub-segment of CI as the next level HCIS and builds on the same principals while simplifying the support of the application via containers/micro services for cloud-native apps.
The SDS market is highly fragmented, with more than 30 hardware vendors. VMware, RedHat and Nexenta leading the market on "software-only" deployments.
Upcoming cloud offerings are also coming from CloudNAS (NexentaStor5 CloudNAS) and CloudManagement (NexentaFusion CloudManagement) for AWS, with consistent data services available on-premises and in AWS.
Maner claims Nexenta is "moving the industry into the right direction… and along with other great providers [and] making the sea levels all rise."
And, tongue in cheek; "Obviously, if we do not achieve these goals, becoming a $100m/year company by 2020; my investors will look for a new CEO… ;)" ®