This article is more than 1 year old
Avaya thinks it's found a new voice, by singing the same old song
El Reg meets new CEO Jim Chirico on his tenth day in the job
INTERVIEW "Avaya", the company's newly-minted CEO Jim Chirico tells The Register, is "a company that promises solutions for what the customers demand we need to be."
The company used to be easier to understand: a heritage in carrier-grade comms gear and PABXs made moves into the contact centre, IP telephony and unified comms (UC) entirely sensible vertical integrations.
But in recent years UC's been cloudified and commoditised by the likes of Microsoft and Cisco. New kids on the block like Slack bundle voice and collaboration for a few bucks a month and assume the presence of not much more than a PC, smartphone and internet protocol.
What's Avaya to do?
Chirico's told The Register job one is getting out of Chapter 11 bankruptcy, which the new CEO said the company will soon exit without the obligation to service debt to the tune of over US$300m a year. "That is twice our research and development budget," Chirico told The Register.
The company has managed to improve profitability and gross margins while restructuring, he said, adding that once the financial re-org is concluded it will "mean clarity" and signal stability. A return to public ownership therefore beckons, Chirico said.
He also wants the company to lose its reputation as a fusty PABX provider and instead get on the offensive with product development and services. Doing so will mean shedding the structures and attitude that comes with revenue sourced from maintenance services. The second will see it soon productise a practice currently led by "client principles" who build bespoke applications around Avaya's contact centre and unified communications platforms.
"We will be moving it out of its own business unit and into the mainstream of what we do," Chirico said.
Those folk will be given lots of autonomy. "Decisions [about product] will come from the field," Chirico told The Register. "We will be more supportive, rather than edictive" ['Edictive' may not be an actual word. Chirico used it to mean a top-down decision-making style – Ed].
R&D will therefore be directed by customer suggestions, not wonkish whims. Chirico hinted at the direction Avaya wants to take its products by saying "Over time there is no definitive line between unified communications and the contact centre. One is very complementary to the other."
But the new CEO doesn't want to re-invent the company completely, naming its contact centre tools and expertise as the assets most likely to lead to his goal of renewed growth.
That may sound odd at a time when voice is declining in importance as a customer service channel. Those who preach Digital Transformation suggest dealing with millennials by starting an interaction by chatting with a 'bot in Facebook Messenger, moving to real time chat with a human to finish things off and making this all consistent even if customers hop between mobile apps and a browser.
Voice, if used at all given the high cost of having actual people answer questions, is reserved for high-value problem solving or problems that just can't be automated.
Chirico thinks Avaya's contact centre expertise means it can handle that kind of transaction like few others. Throw in the fact that the company has unified communications platforms and expertise, and Chirico's belief that such tools are just-about merging with contact centres, and he thinks the company has a shot at helping bridge customer service and marketing automation.
Which is not to say there aren't tricky moments ahead. Avaya intends to keep doing most of its business through the channel and Chirico knows there will be tense-but-resolvable moments as Avaya's professional services ambitions overlap with partners'.
Time to evaporate
The CEO also knows that Avaya needs a better cloud story, so has set the company to work making its entire product portfolio available in public, private and hybrid clouds. The Zang and IP Office unified communications products are destined to become closer, perhaps even to merge, to ensure small-to-medium-sized buyers have a product for their needs. Top tier companies like business process outsourcers will be offered Avaya-operated PaaS, for both platform products and vertical applications.
Chirco wouldn't commit to how he would deliver cloud products. The company has previously worked with VMware to deliver converged appliances and its Oceana suite has hooks into AWS. The CEO told The Register to expect more in similar veins.
The company's also making sure it can sprinkle some buzzword pixie dust, emphasising its Blockchain and artificial intelligence capabilities.
The Register hears this stuff from almost every vendor. Avaya had a more cogent story than many, explaining how it's federated customer sentiment data from a number of government agencies in Dubai to create a bigger pool of data with which to work.
Sentiment analysis is the art of determining, in real time if possible, what your customers think of you. Call centres have used it for a decade or more, to help agents respond to customers' state of mind as revealed in voice patterns or keywords in written communication. Sharing such data is obviously tricky. Avaya thinks that by sharing it with a private Blockchain it can at least demonstrate that a federated sentiment database respects the privacy of customers and agencies.
But the scenario explained to The Register contains only some Avaya technology, namely its sentiment analysis and contact centre tools, IBM provided the Hyperledger Blockchain to the project.
One field in which Avaya has already invested is handsets, or endpoints as Chirico prefers to call them. The company's just announced its first refresh in seven years and has third-party SIP products on its roadmap. These new products, it's hoped, will excite the channel again.
There's also plenty of back office work to be done.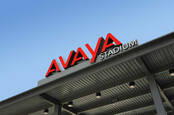 Avaya re-structures its re-structuring plan, also re-structures CEO
READ MORE
"We are going to be a company that focuses being easy to deal with," Chirico said. "We are going to invest in additional applications for ease of doing business with the company, which has been an issue."
"We will support the organisation to do everything we can do to satisfy customer needs. Most of our transformation has been focussed internally."
In half an hour with Chirico your correspondent was left feeling that he understands the changes Avaya needs to make in order to operate profitably, but that he's reliant on others to articulate where it should go next.
I asked what visions of the future tantalise him, what uses of technology inspire him and his response was that his twenty-something kids are immersed in information in ways he could never have imagined.
Which is hardly a startling observation and left me with the impression that Chirico's Avaya will indeed be whatever customers need it to be. But that it may not yet be capable of leading customers to places they don't understand they need to go. ®