Boring Barracuda says sales are going swimmingly – again
Steady as she goes predictable revenue rise for low-profit biz
It's getting predictable. Barracuda has posted yet another year-on-year revenue rise with yet another small profit. Boring is good, though, right?
For the three months to August 31 this year, its second fiscal 2018 quarter, the California-based outfit recorded revenues of $94.3m, up seven per cent from last years's $87.9mn and just $100,000 more than the previous quarter's $94.2m.
GAAP net income was $1.6m, down 33 per cent from the year-ago $2.4m and the previous quarter's $2.1m.
Subscription revenue grew to $76.0m, up 14 per cent from $66.9mn a year ago, representing 81 per cent of total revenue, and appliance revenue was $18.3m, compared with $21m in the second quarter of fiscal 2017. Subscriptions are where it's at, and the number of active subscribers grew 17 per cent to over 348,000 as of August 31, 2017.
President and chief exec BJ Jenkins said, on revealing the figures this week: "Excluding non-core billings, we have generated four consecutive quarters of double-digit billings growth. We believe we have the right strategy in place, are focused on the right areas of the market, and provide innovative security solutions that are affordable and consumable in the form that is best suited for our customers' needs."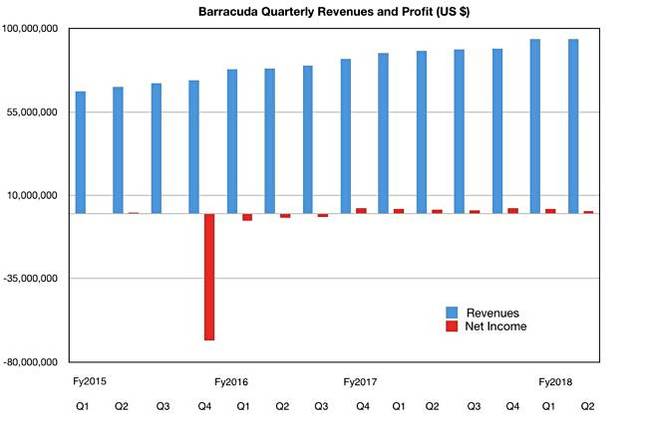 Performance ... How Barracuda's figures stack up
William Blair analyst Jason Ader noted the gross margin was down, and attributed this to "a combination of investments in public-cloud infrastructure, mix-shift, and non-recurring charges related to the company's hardware refresh program."
"Management expects gross margins to improve sequentially by 50 basis points in both the third and fourth quarters," he said. "The company saw some benefit to both revenue and pipeline from recent breaches at Equifax, Deloitte, and others as such incidents lead to more opportunities in email and application security."
Ader reckons "the frequency of ransomware attacks is creating demand tailwinds for both Barracuda's email security and backup products."
We've seen seven profitable quarters in a row, at $3.2m or less a quarter. It's not a huge money-making machine but it is steady, predictable and reliable. Dull, boring even, but boring means good here.
Barracuda has $125.6m in cash and equivalents, and little debt. It is heading toward a $500m revenue number in 2019 or so. Might it be looking at possible acquisitions to spur growth beyond the current rate? Next quarter's revenue is expected to be between $92.5m and $94.5m, and up on the year-ago quarter's $88.8m. ®