This article is more than 1 year old
Citrix switches on nuage français, deutsche wolke, nube española
New EuroCloud almost matches US cloud, if you can be bothered signing up
Citrix has opened a new cloud region somewhere inside the European Union.
The company's justification for the new region is "to meet the business requirements of enterprises based or operating in Europe." The company's clearly doing so by adding French, German, and Spanish to the user interface. Storing data locally and therefore securing easier GDPR compliance looks another likely business requirement that Europe-based businesses might find handy.
As the table below shows, not all of Citrix's cloud regions are created equal: the EuroCloud is missing a few features available in its across-the-pond parent.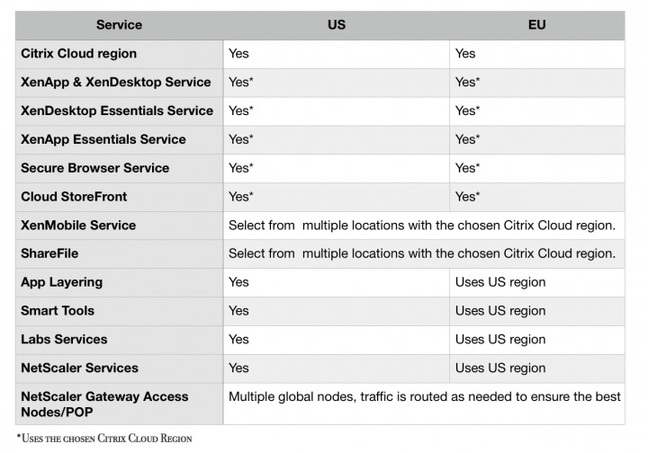 Citrix's AmeriCloud vs. Citrix's EuroCloud. Click here to embiggen
The service also looks a bit messy inasmuch as you can't run a single cloud with resources in each region. Instead you'll need to create a European cloud, then "add the email from your US account to the EU administrators list." You'll end up with a new ID tied to a single bill.
Nor is it possible to move accounts between regions: once you pick a location, you're tied to it forever.
Citrix says its EuroCloud is a work in progress and promises "more exciting announcements for our EU region in the coming months." The company also says it plans further new cloud regions "based on market demand and feasibility" and also plans to add more languages in the future. ®