The Reg didn't physically follow this year's Solar Challenge, the biennial solar car race across Australia's dead, red heart. But we did observe this year's event, in which unfavourable weather meant this year's field didn't even get the chance to set speed records.
Winning team Nuon Solar from the Netherlands managed an average speed of 81.2 km/h to win the 3,000 km-plus run; in 2015, the same team won the long-distance solar sprint with an average speed of 91.75 km/h.
It was Nuon Solar's third win in a row.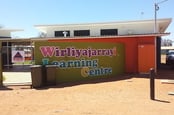 The Reg explores technology in a remote aboriginal community
READ MORE
The top five teams were the same as in 2015: behind Nuon Solar this year was 2015 fourth place-getter from the University of Michigan; Punch Powertrain of Belgium climbed from fifth in 2015 to third; Japan's Tokai University team dropped from third to fourth this year; and Team Twente (the Netherlands) fell from second to fifth.
The challenge results table speaks of demanding conditions this year, with just a dozen finishers listed in the "Challenger" class compared to 20 in 2015.
The same was true in the Cruiser class in which solar vehicle designs are closer to the mainstream (multiple seats, roadworthy safety, comfort, and long battery charge range) which first ran in 2013: only three out of 15 teams made the finish line in time to be counted as finishers.
These were Team Eindhoven (winner although it crossed the line second, because Cruisers have to compete both on speed and features). Germany's HS Bochum was second and Queensland's Team Arrow scored Bronze.
Team Arrow founder Cameron Tuesley explained the conditions that made finishing so difficult this year, saying "we had 40 degree heat, tropical storms, major thunderstorms, severe cross winds, dust constantly, animals all over the road, major trucks, pretty much everything you can throw at something were thrown at us". ®
Bootnote
Here's our coverage of the 2011 and 2013 challenges, which were trailed by Reg hacks.