California Governor Jerry Brown has vetoed a state bill that would have allowed telcos to put up loads of small-cell antennas, and thus boost phone coverage, against city officials' wishes.
Brown said that the proposed law, which was written by State Senator Ben Hueso (D) and backed by the wireless industry cheerleaders at the CTIA, would make it a lot harder for city and county officials to regulate phone carrier access to utility poles.
In other words, under this law, Verizon et al could pay a small fee and erect small phone masts on utility poles as they wished, and there would be little officials could do to stop them. The bill, which was passed by the state senate and reps, sought to reduce the hoops telcos had to jump through to extend their wireless coverage: they would only need a simple building permit, or similar, and turning those down would be difficult to justify.
"There is something of real value in having a process that results in extending this innovate technology rapidly and efficiently," Governor Moonbeam said in a message [PDF] explaining the veto.
"Nervertheless, I believe that the interest which localities have in managing rights of way requires a more balanced solution than the one achieved in this bill."
Specifically, SB 649 would have allowed small-cell antennas to to only be subject to a limited set of permit requirements in order to be placed on city-owned towers and utility poles, rather go through a long process designed for full-size phone masts. Proponents had argued that the bill would have cut down on red-tape that made the rollout of small-cell mobile networks more expensive and time consuming.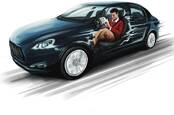 Super Cali's futuristic robo-cars in focus – even though watchdogs say they're something quite atrocious
READ MORE
The CTIA argued that the proposed California law would allow for faster installation of 5G network hardware in the Golden State.
"Small cells enhance capacity on existing 4G LTE wireless networks by efficiently using scarce spectrum and will be required for higher-frequency 5G networks," the group said a letter [PDF] supporting the bill.
Critics, meanwhile, had argued that the bill would take too much power away from city governments. Both the mayor and city council in San Jose had come out against the proposals on the grounds that they wouldn't let cities dispute details including the size and exact placement of equipment.
Meanwhile, Brown gave his approval to another bill that is aimed at saving IT jobs in California. The governor signed off on AB 848, a law that requires state universities to contract jobs only to companies that will use workers on American soil rather than outsourced abroad.
The bill, inspired by the outsourcing of IT jobs at the University of California San Francisco, had been widely supported by labor unions as a way to keep tech roles at other State universities local.
"We want to sincerely thank the brave IT workers who stuck through this legislative process with us," said Jelger Kalmijn, president of UPTE-CWA Local 9119, the union backing the bill.
"While they were looking for new jobs and a way to provide for themselves and their families, they also took the time to go to the Capitol and fight for what was right." ®
Similar topics