Huawei has refreshed three third generation modular rack server products from older Xeons to Skylake processors with a v5 refresh giving them updated networking and storage options.
Earlier this year Huawei started the Skylake refresh of its server products, commencing with its E series blade servers – the CH121 and CH242 V5s.
Now it has moved on to the modular rack servers, refreshing the 1288H and 2288H and adding a new 2488 model.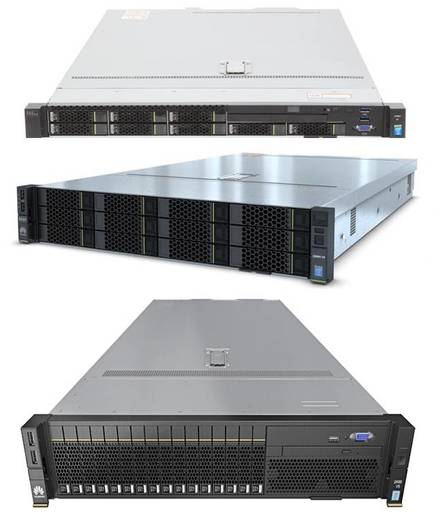 Huawei v5 rack servers. From top: 1288H, 2288H and 2488
The 1288H is a 1U, 2-socket server supporting one or two full-series Xeon Scalable Processors of up to 205W and 24 x DDR4 DIMM slots. It can have up 10 x 2.5-inch drives or 4 x 3.5-inch drives – drives being disk or SSD.
The 2288H is a 2U, 2-socket server supporting the same CPU and memory slots and with more storage drive space. There are 9 PCIe expansion slots, and up to 20 x 3.5-inch or 31 x 2.5-inch hard drives (configurable with 4, 8, 12, 24 or 28 NVMe SSDs.
And yes, the 2488 is a 2U, 4-socket server with punchier processing resources. It supports 4 x Xeon Platinum 8100, Gold 6100, or Gold 5100 series CPUs and more memory - 32 DDR4 DIMMs.
The storage space is limited compared to the 2288H, being 8 or 25 x 2.5-inch SAS/SATA HDDs on the front, or 8 x 2.5-inch NVMe SSDs and 16 x 2.5-inch SAS/SATA HDDs.
These three v5 servers logically replace the existing v3 1288H and 2288H rack servers. There wasn't a v3 version of the 2488 box. Their networking features LoM (LAN on motherboard), with programmable converged NICs with 25GbitE connectivity.
There is a built-in Fault Diagnosis and Management (FDM) mechanism, and a patented Dynamic Energy Management Technology (DEMT), which Huawei says can reduce system energy consumption by up to 16 per cent with constant CPU loads. Think variable fan speed-type stuff.
Due to anti-China feelings in the US, these Skylaked Huawei servers may not make much impression in North America, but server vendors had better be prepared to meet them elsewhere.
Huawei's high-density X server line is still at the v3 level as are Huawei's KunLun and TaiShan servers. We can probably expect them to get Skylaked too. The heterogeneous computing G-series servers were given Tesla GPU acceleration in September, but we have no main processor details yet. ®