Kaminario wheels out model that makes K2 flash look well flash
Surprise! Using our assumptions, our all-flash array costs less than theirs
---
Kaminario has claimed its all-flash storage arrays have a lower three or five-year cost of ownership than competing products.
But not just a few competitors; the ESG quantitative model it uses has customised results for each inquiring business.
The ESG Economic Value Validation scheme is described in a report obtainable from Kaminario's website. ESG says: "The analysis is designed to help IT organizations determine the fully burdened costs and benefits of deploying K2 storage with a 'present mode of operation' (PMO) that reflects a blend of either traditional or purpose-built all-flash storage arrays available on the market today."
ESG says: "The modeled scenario was based on typical K2 deployments and consisted of a mixed workload, comprised of 70 per cent transactional database workloads, 10 per cent VDI desktop workloads, and 20 per cent general server virtualization workloads. The scenario modeled a midmarket organization with 2,000 employees deploying new storage (or refreshing its traditional storage deployment) to consolidate IT operations."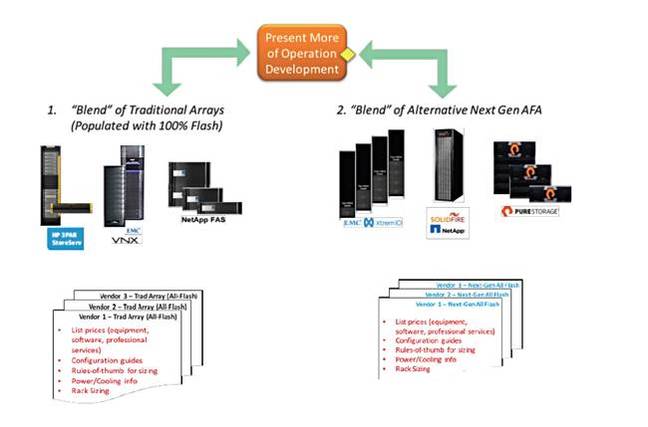 ESG's PMO scheme for Kaminario. Click image for a bigger version.
The ESG researchers talked to Kaminario and its customers to understand the costs (CapEx, OpEx) and benefits (productivity savings) of K2 array ownership with a database-centric use case, and then compared these to the modelled or estimated costs and benefits of using other arrays such a those from Dell (Unity, VMAX, XtremIO), HPE (3PAR, Nimble), NetApp (All-flash FAS, SolidFire), Pure Storage.
The results are not presented as a straight report. Instead, interested users provide their details and "answers to typical qualifying questions regarding a [their] IT environment and business needs. The model then returns a detailed report of expected savings, TCO [total cost of ownership], and ROI [return on investment] over a given time period when compared with a relevant, defined present mode of operation."
How does it get the numbers?
These numbers are calculated with interesting additions. They include taking expected savings from using the K2 arrays and predicting "the yield from reinvesting savings into another project or investment. Assuming that the reinvestment produces a modest 5 per cent rate of return over five years, the model estimates an additional $35K that can be realized." That's a great big fat assumption indeed.
Another interesting tactic in ESG's model is to redefine cost/GB away from the straight $/raw GB: "ESG's model calculates the usable capacity $/GB as a function of all five-year CapEx- and OpEx-related costs to be $2.18/GB for the Kaminario solution and $4.97/GB for the alternative AFA PMO," meaning a typical purpose-built all-flash array.
ESG said: "The model predicts that when compared with a blend of other purpose-built AFAs, a modeled organization could expect to save a total of over $564K in combined savings and potential benefits over a five-year period by choosing to deploy K2 all-flash storage. This would result in a return on investment (ROI) of 82 per cent and a payback period of just over 2 years. These savings and benefits were even greater when K2 was compared with a traditional all-flash storage array."
Well, does that surprise any of you? ®