Support for Storage Spaces Direct, Microsoft's version of VSAN, has been stripped from the latest build of Windows Server 2016, version 1709, which was released on Tuesday.
Storage Spaces aggregates the hard drives in a Windows Server cluster to provide a single logical pool of capacity, which is available to applications running in the cluster. This is useful, necessary even, for hyper-converged infrastructure (HCI) appliance systems – and Windows Server 2016 has an HCI focus.
Storage Spaces Direct, as the name suggests, handles direct-attached SAS, SATA or SSD drives. However, the release notes for Windows Server version 1709 state:
Storage Spaces Direct is not included in Windows Server, version 1709. If you call Enable-ClusterStorageSpacesDirect or its alias Enable-ClusterS2D, on a server running Windows Server, version 1709, you will receive an error with the message "The requested operation is not supported".
It is also not supported to introduce servers running Windows Server, version 1709 into a Windows Server 2016 Storage Spaces Direct deployment.
Why?
Storage Spaces Direct featured at the Microsoft Ignite conference in September, and would seem to be a crucial aspect of hyper-converged Windows Server on-premises systems going forward.
It seems quite unlikely that Storage Spaces Direct support is being permanently removed from Windows Server. The removal is probably a temporary measure. We've pinged Microsoft a query to understand why this has happened and will update this story as and when we have a reply.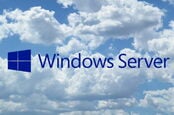 The age of six-monthly Windows Server updates starts … now!
READ MORE
The latest Windows Server build was emitted onto the web this week, and was pitched as the first arrival in a twice-yearly release cycle.
It features an "updated Server Core container image that has been further optimized for lift-and-shift scenarios where you can migrate existing code bases or applications into containers with minimal if any changes – and it's also 60 per cent smaller. We also have an updated Nano Server container image that is nearly 80 per cent smaller – perfect for your new cloud applications or microservices."
In case you missed it, Nano Server, revealed in 2015 as a cut-down server operating system, has now been downgraded to an OS that runs inside containers on a host platform. Meanwhile, native Linux container support is coming to Windows Server, and "the platform work is in version 1709 and the Docker work is nearly completed as well!"
Sure, great, but that'll be cold comfort for system administrators wondering where their hyper-converged directly attached storage support just went. ®