This article is more than 1 year old
The age of six-monthly Windows Server updates starts … now!
Windows Server version 1709 is now yours for the downloading
Microsoft's vision of six-monthly Windows Server updates is now a reality.
Announced just four months ago in June 2017, Redmond's new Windows Server plan will see it offer a "Long-term Servicing Channel" that behaves a lot like Windows Server does today: a big upgrade every three years or so and support for more than a decade.
The new kid on the block is a "Semi-annual Channel" in which a new Windows Server release will appear every six months. That channel will get you on the upgrade treadmill, unless you are willing to live without support 18 months after release, which is when Microsoft will stop caring about the release.
The first of the semi-annual releases, Windows Server version 1709 became available on October 17th, US time. We'd love to offer you a link to download it, but sadly The Register lacks credentials to Microsoft's Volume Licensing Service Center where it can be found. You can, however, play with it in Azure, here.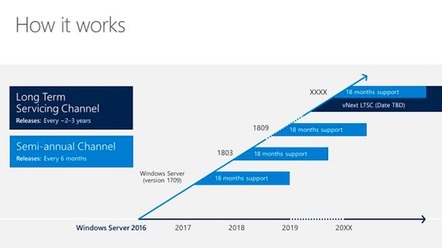 Windows Server's new release cadence explained
Windows Server runs Azure and in these DevOpsy times it's no surprise that Microsoft is able to create more releases, more often. But while Azure users don't notice OS changes, unless it's to their own instances, on-prem users now have a choice of how much innovation is worth the hassle of frequent migrations.
Windows Server 1709's headline feature is the appearance of the Windows Subsystem for Linux. The new web-based "Honolulu" server management console/System Center replacement T also debuts, as does support for Linux containers with Hyper-V isolation.
When The Register reported Microsoft's plan for more frequent Windows Server releases, we added a poll asking if you'd use them. Most of you were either cautious, negative or indifferent. If you've changed your mind, let us know. ®