This article is more than 1 year old
HPE quits cloud servers, two weeks after telling El Reg it wouldn't do that
Company also plans 'consolidation' of product lines, locations and languages
HPE has quit the business of providing custom servers to big cloud operators.
Which may come as a surprise to readers who recall our story from October 5th. In that piece, HPE's Carlo Giorgi told us the cloud server business "... is being re-engineered or engineered to be more fit for purpose. It will still be a tailored offering for service providers, but will not have only standard SKUs and [its structure] will depend on the type of compute [required]."
Now, however, HPE has posted slides that HPE president Antonio Neri presented to a financial analyst day this week. His third slide does the deed and is reproduced below.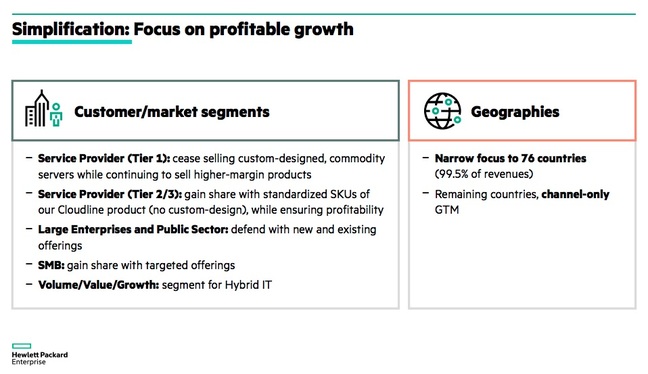 HPE President Antonio Neri's server-killing slide. Click here to enlarge
Just what the "higher-margin products" HPE can offer big clouds is not revealed. But we'd be surprised if it's something entirely new because the fifth slide in Neri's deck outlines extensive – ahem – consolidation of the company's products, locations and languages. Which may explain rumours the company plans to axe 5,000 jobs.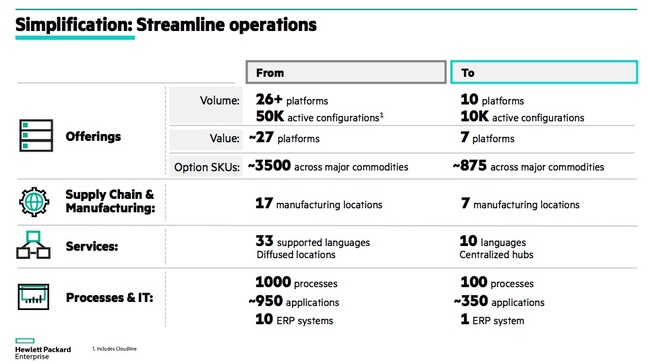 HPE's streamlining plan. Click here to embiggen
The slide deck offers a few hints at the company's future directions, mentioning plans including: Something called "Project New Stack" that aims to offer "Hybrid as-a-service platform for application, data, and infrastructure composability across clouds"; Expanding the Aruba platform to challenge Cisco's Meraki in the cloud-managed network; Developing SD-WAN capabilities as part of Aruba solutions to offer customers a single control point for Wi-Fi, switching and WAN; Extend programmability of campus aggregation switching with next generation of Aruba OS.
The Register has asked HPE to clarify its server plans and, if the company does so, we'll update this story or write a whole new one. ®