On-Call Another week is coming to an end and that means it's time for On-Call, The Register's Friday column in which we share readers' stories of being asked to do the unthinkable to satisfy the incorrigible.
This week, meet "Glenn" who told us that back in the 1970s he worked for "a large multinational that had several IBM mainframes in a computer hall."
Boxes were big in those far-off days. So big that Glenn pointed "the hall had sliding doors to the external world so that kit could easily be moved in and out."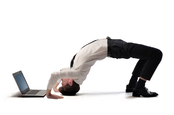 Software update turned my display and mouse upside-down, says user
READ MORE
Glenn once copped a night shift to cover for a colleague who took a holiday. And a Saturday night shift at that.
The admins who worked that shift had long since figured out that not much happened, so they could spend time on personal projects.
On the Saturday night Glen worked, he wasn't the only irregular attendee. As the evening wore on, an operations manager dropped in, too. Said manager was in the midst of an enjoyable evening out when he found himself in need of relief, so detoured to the nearest convenience which happened to be the office.
And when he arrived, the manager found a car in the computer hall.
One of Glenn's colleagues had brought the car – a Mini – to work because it needed an oil change. Remember those big sliding doors we mentioned? They made it easy to get the car inside. The computer hall's raised floor helped too, as if you lifted a few floor tiles you could get to the car's underbelly.
"The look on the manager's face when he found a Mini sitting in the computer hall was a picture that I treasure," Glenn told us.
Glenn also treasured the extra cash that soon came his way, because the owner of the Mini soon "'decided' to find alternative employment."
Have you ever stumbled upon something that just doesn't belong in the data centre? If so, write to share your story with On-Call and your story could pop up here on a future Friday. ®