A week in WANdisco, Toshiba 'n' pals, plus storage-iest bits of Microsoft and mates
Dash of containers, drop of tape, soupcon of advanced RAM... perfect
---
Another week has passed by, and yet another torrent of storage news streams towards us, running the gamut from spin-transfer torque magneto-resistive RAM to data streaming and a Maltese Smart Island hub.
Acronis
This backup and blockchain-focused data protection company is opening a new European Technology Hub in the Mediterranean island of Malta, hoping to help it become a "Smart Island". It is being done in collaboration with Runa Capital and Parallels.
Both Parallels and Acronis are owned or run or chaired by Serguei Beloussov. He is also one of global technology-focused venture capital firm Runa Capital's co-founders.
Dr Joseph Muscat, prime minister of Malta, said: "We are happy that another global investor chose Malta to expand its operations in Europe. There is one added crucial factor that brings us here together today. We share the same vision for Malta – that of becoming a hub for technological innovation."
The announcement claims Malta offers high tech companies new avenues of growth amidst a backdrop of financial and political stability. Journalists might argue otherwise.
FileCloud
Enterprise file sync and sharer FileCloud announced FileCloud Breach Intercept to provide ransomware protection, claiming to help customers handle every phase of a cyberattack: prevention, detection and recovery.
It says FileCloud offers branding and customization tools, allowing you to set your own policies, and design your own emails and broadcast alerts. Customized emails and UX significantly reduce spoofing risk as hackers can't run a mass spoofing unless they have an exact copy of an email from one of your employees, it claims.
The new product has granular controlled folder access, a real-time content / behavior heuristic engine, and unlimited versioning and backup to rollback. FileCloud says it can roll back not only employee files but also entire server files to any specific date and time before the attack.
Microsoft
Microsoft removed Storage Spaces support from a Windows 2016 preview build, v1709. Asked about this, a company spokesbod said: "Storage Spaces Direct was introduced in Windows Server 2016 and remains the foundation for our hyper-converged story. Following our successful Windows Server 2016 release, we've listened to our customers and are already working to deliver the next set of innovation to our hyper-converged story.
"We elected to keep these features in preview, for the Windows Server, version 1709 train. There will be another train available soon, as the new Semi-Annual Channel release provides a more rapid release cadence for greater flexibility and faster innovation for our customers."
Will Storage Spaces Direct support come back? Guess we'll have to wait for the next Windows Server 2016 preview train. Stay on the platform and wait six months.
Push Technology
Push Technology, a real-time delta data streaming and messaging provider, announced the release of Diffusion 6.0. This is a bi-directional, delta-data streaming and messaging platform is available on-premise, in-the-cloud, or in hybrid configurations.
Diffusion 6.0 supports:
Time series data - ordered series of events useful for tracking account history, managing inventory or logistics, and for collaborative applications, e.g. chat.
Persistence - useful for maintenance, update, or an unplanned outage, and eliminating the need for the server to reload the data model when it starts.
Typed request-response messaging - send request messages or data to a client, a set of clients, or a message path and the recipient of the information can respond directly to the request.
New data type support - int64, string, and double data types.
There are two add-on modules or packs.
The Scale & Availability Pack offers functionality including clustering, fan-out, and persistence – focused on addressing the challenges of resilience, geo-dispersement of data, and scaling to large audiences.
The Auto-Scale Pack integrates Kubernetes and Prometheus to facilitate fast, simple, application deployment which enables Diffusion applications to be conveniently "containerized," and easily managed, monitored and scaled.
Storage Made Easy
An updated version of SME's enterprise File Fabric product has enhanced governance and compliance to support new compliance regimes such as GDPR, support for more data repositories via the introduction of new connectors and new multi-cloud collaboration features which work across on-premises and on-cloud files and data.
The update includes new integration with external SAML systems for secure user Single Sign On (SSO), inclusive of Microsoft ADFS. Also File Fabric gets Google Authenticator support for two-factor authentication (2FA).
The File Fabric unifies all on-premises and on-cloud data into a single workspace for end users.
Spin-Transfer Technologies
Spin Transfer Technologies (STT) and Tokyo Electron (TEL) today announced they have signed an agreement for a collaborative engineering program to further advance the development of ST-MRAM (Spin Transfer Magneto-resistive Random Access Memory).
It's also referred to as STT-MRAM (Spin Transfer Torque Magneto-resistive RAM.)
ST-MRAM is said to provide several benefits over SRAM (Static Random Access Memory) including being more compact, less costly, requiring less power when storing data, retains data for long periods without power and is nonvolatile.
STT will contribute its high-speed, high-endurance pMTJ design and processing technology; TEL will utilise its ST-MRAM deposition tool and knowledge of unique formation capabilities of magnetic films. The companies will demonstrate sub-30nm pMTJ's, 40 to 50 per cent smaller than other commercial products.
Sysdig
Sysdig, a startup with container intelligence software that monitors and secures containers, has completed a $25mn series C financing round through Accel Partners. It has launched a Sysdig Secure product to offer run-time security and forensics for containerized environments based on Docker, Kubernetes, OpenShift, Amazon ECS, and others.
Sysdig says container using businesses no longer need to deploy separate products and instrumentation to monitor, secure, and troubleshoot their applications.
Tape
The LTO Program Technology Provider Companies (TPCs), Hewlett Packard Enterprise, IBM and Quantum, announced the specifications of the latest LTO Ultrium format, generation 8, which is available for licensing by media manufacturers.
The LTO-8 tape format bandwagon is gathering speed. Compared to the existing LTO-7 format, LTO-8 delivers a 2X capacity gain - to 12TB raw/30TB compressed - and 20 per cent performance improvement - to 360MB/sec raw or 900MB/sec compressed.
Here is the LTO organisation's latest Ultrium tape format roadmap: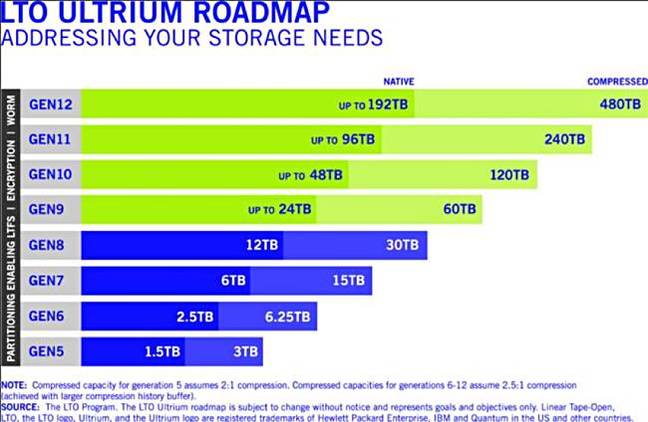 LTO-8 also includes a new format feature that allows customers to increase the capacity of the latest LTO-7 cartridges by up to 50 per cent to store 22.5 TB of compressed data. This is done by having new LTO-7 cartridges initialized as LTO-8 Type M media.
LTO-8 is only backwards-compatible with LTO-7 format tapes.
Earlier this week Quantum announced that LTO-8 drives will be available in its Scalar tape libraries and StorNext AEL archive systems from December.
Quantum will begin taking orders in October and currently offers an LTO-8 technology pre-purchase programme.
Teradata
The data warehousing/BI whiz says it has a strategic partnership with GE Aviation focused on providing analytics for the world's airlines.
GE and Teradata will jointly provide products and services to specified commercial aviation markets. The relationship includes includes joint marketing, sales, services and support across both companies.
It combines operations, assets and networks from GE Aviation with Teradata's customer information, sales and marketing, and back-office support.
Potential benefits could relate to, for example,flight disruptions. These, the two say, could be be actively managed by GE with customer experience being managed by Teradata. With the combined offering, the process to manage disruptions is improved by adding information about managing parts inventories, logistics, scheduling, and labour pools.
Toshiba
Countering reports that Toshiba's flash wafer production had been severely impacted by malware again, a company spokesperson said: "Beginning in September of 2017, viruses were detected in some locations within the Toshiba Group of companies. We cannot share details or comment on the specific locations that were affected, but can confirm that the virus did not spread outside of the Toshiba Group network. Currently, normal operations have been restored at all affected locations.
"Any customers that may have been impacted by the situation have already been notified, and reassured that operations have resumed as normal."
Veeam
Veeam has appointed Mark Adams as regional vice president of UK and Ireland. He'll report to Olivier Robinne, senior vice president of EMEA.
Adams was senior director in VMware's End User Computing division, its second largest Business Unit, generating $1.2bn annually. Veeam says he wants grow to its existing local customer base which is close to exceeding 20,000 customers.
Vexata
We asked Vexata to confirm that its VX-100M array's 7 million IOPS with a 40μs response time is an inside-the box response time.
We were told that there are a lot of transitions required in the box to process an IO from a host: Network/NIC -> CPU/Controller -> Memory -> PCIe -> Ethernet Controller -> Ethernet Switch -> ESM (Ethernet to PCIe converter) -> PCIe -> NVMe SSD.
That is a lot of steps/hops. Does this mean that the latency Vexata is quoting is inside the box only, and not what an application actually sees when you add in the network and host stacks?
Vexata's CTO, Surya Varanasi, said: "Yes – the latency inside the box is 40μs when the Optane SSD is used.
"Application latencies will include host and switch latencies. We have characterized the end to end path from the host all the way down to the storage. Host latencies tend to be in the ~75μs range. Network switches are very low latencies and in the range of ~1-2μs.
"We have characterized end to end IO latency from the server to the VX-100M to be around ~130μs."
Virtual Instruments
This application and network infrastructure performance testing company has a partnership with Gigamon for better NAS evaluation. Virtual Instruments' VirtualWisdom platform can now ingest IP network data flows from the Gigamon GigaVUE Appliances. Joint customers can access VirtualWisdom's monitoring capabilities.
Virtual Instruments has added support for NetFlow IP network monitoring and the SMB protocol to the VirtualWisdom NAS Performance Probe.
Virtuozzo
This is a hyper-converged infrastructure appliance software provider. It has announced the availability of persistent Virtuozzo Storage for Kubernetes (K8s); software to run on commodity hardware.
Several features:
Storage Provisioner – dynamic volume provisioning based on pre-configured storage classes that contain all the requirements for a particular volume,
Snapshot Controller – implements the K8s 1.7 aggregation API and provides snapshotting functionality for K8s volumes,
Storage FlexVolume Driver – provides mount volumes on K8s nodes,
Integration with the K8s Storage Management Model – enables cluster connections through native K8s secrets and snapshots management via a native API aggregation,
Assign Storage Classes in 2 clicks with configuration options for Volumes available for storage classes,
Snapshot Support with easy scheduling and policy management,
Fault-Tolerant by Design – flexible redundancy schemas and a highly available control plane ensure that infrastructure is still manageable after a node failure.
It adds to to its existing offering for Docker containers, which received Docker EE certification in June.
WANdisco
Replicator WANdisco says its Fusion product is integrated with Microsoft Azure Data Box. Microsoft customers can use it and Azure Data Box to transfer information from Big Data applications to Azure without the downtime and cost usually involved in bulk data transfer over the network.
Users can continue to write to their local cluster while Azure Data Box is in transit and subsequently being uploaded, and replicate those changes to the Azure Cloud with guaranteed consistency once the upload is complete.
They can write data to a local HDFS-compatible endpoint on-premises and replicate to a storage location in Microsoft Azure with no modification or disruption to applications operating in Hadoop clusters on-premises.
Dean Paron, General Manager for Azure Data Box at Microsoft, said: "By using WANdisco Fusion for Microsoft Azure Data Box, customers can burst their big data processing needs to the Azure Cloud while maintaining on-premises consistency."
It's a multi-cloud world for WANdisco, and why not? ®