Coinhive hacked via old password to move manic miners' Monero into miscreants' pockets
Credential leaked from Kickstarter hack used to hijack Cloudflare DNS
---
Monero miner maker Coinhive was hacked so that websites using its code inadvertently redirected their generated cryptocurrency to miscreants – after the outfit forgot to change an old password.
The team, which develops alt-coin mining JavaScript engines, said on Tuesday hackers had used an old Cloudflare account password to reconfigure coinhive.com's DNS settings. This allowed the thieves to briefly redirect downloads of its crypto-mining code to a malicious version that was hardcoded to funnel mined cyber-cash to one particular user. In other words, websites embedding Coinhive's JavaScript were actually embedding a dodgy copy that stole any Monero created by their visitors' browsers.
"The DNS records for coinhive.com have been manipulated to redirect requests for the coinhive.min.js to a third party server," it said in a blog post. "This third party server hosted a modified version of the JavaScript file with a hardcoded site key. This essentially let the attacker 'steal' hashes from our users."
Coinhive said it regularly changes its passwords and uses two-factor authentication on its main accounts, but its Cloudflare account was overlooked. It thinks the password was the same one its team used on Kickstarter, which was hacked in February 2014 and the Cloudflare pass phrase hadn't been changed since.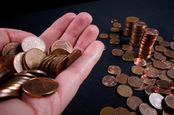 More and more websites are mining crypto-coins in your browser to pay their bills, line pockets
READ MORE
The group said it was "deeply sorry," and will recompense users of its software. The plan is to credit all site owners with an additional 12 hours of Monero mining based on their daily average hashrate. One Monero coin, 1 XMR, is worth about $89 right now.
The cockup highlights the dangers of reusing pass phrases and not setting up two-factor authentication for everything. There are plenty of databases out there with searchable passwords, email addresses and usernames, collected from various hacked websites and services. So if you're reusing credentials on multiple systems, you'll eventually be caught out when one of those systems is compromised and the login details for, essentially, all your accounts are leaked.
Your humble Reg hack had a similar experience a few months ago when, just minutes after replying on Twitter to a tweet by a far-right twit, someone almost logged into his Facebook account using a reused and leaked password. Thankfully, two-factor authentication was switched on and blocked the attempt. It demonstrates the speed with which some attackers will move, and how dangerous it is to reuse passwords for multiple accounts on the web. ®