Analysis Reduxio's roadmap has it taking its HX/TimeOS array deeper into the hybrid cloud world, supporting application recoveries as well as VM ones, and adding faster array and data access.
The 2012-founded startup announced a v3.0 update of its indexed, tagged and timestamped data chunk storing array in June this year. That was associated with a $22.5m C-round in the same month, taking total funding to $58.4m. The previous B-round was for $15m in 2014.
So we now have a reasonably mature base product which has 150 to 200 customers today, many with multiple systems, due to repeat buying and revenues growing, although not yet to profitability. Jacob Cherian, VP for product strategy, said the company "will be above a $40m run-rate in 2018" and that it's looking at how to have a subscription business model in the future.
Its strategy is to extend the product's capabilities, primarily with software data management but also from a hardware point of view.
Hybrid Cloud and Applications
Currently it stores and manages data objects but wants to do more. Cherian said: "Today we support data movement. We're adding instant application movement... We're starting going on to have Reduxio data read in the cloud and converted to cloud-native format."
Product manager Mattan Shalev said: "[We'll] move from managing storage objects to manage app instances... [with] instant recovery of app instances... VMs but not containers." Our understanding is that container support is also planned.
The application-level development will support physical Windows and Linux servers, with volume-level recovery, and both vSphere and Hyper-V hypervisors with VM-level recovery. KVM isn't supported but probably will be in the future.
Reduxio supports Amazon's S3 protocol and can tier data to AWS today. Azure Blob support is coming and, again at the application level, cloud instantiation is also on the way. A Reduxio Connector provides app instantiation from secondary storage in the cloud for disaster recovery purposes.
The Connector allows Reduxio to do app instantiation from/in the cloud. It's a sort of lightweight array. This is done as a VM instantiation by converting the stored VM to Amazon's AMI format. In the future it will add instantiation in Hyper-V format.
Reduxio will also support Amazon Glacier as an archival storage tier.
Can Reduxio's array operating system run in the cloud? Technically yes but it is not marketed for that. For Reduxio the cloud is a capacity tier.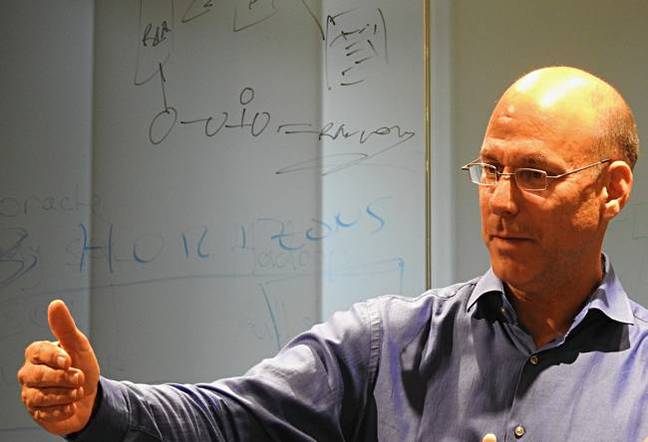 Mark Weiner
CEO and co-founder Mark Weiner said: "Our strategy is not to have Reduxio run in the cloud – like NetApp in the Cloud." Reduxio is an on-premises-based supplier with hybrid cloud support.
Cherian admitted: "If you are living fully in the cloud then we have nothing to give you."
Reduxio is moving towards a scale-out capability with federated systems. It is using its NoMigrate functionality to move apps and storage between HX nodes seamlessly to the app host. This is done using iSCSI redirect, moving a target port from one system to another.
Questions
Why doesn't Reduxio extend its interconnect support from iSCSI to Fibre Channel?
Co-founder and CTO Nir Peleg said: "It's a choice we made, as a startup." Fibre Channel is not a growing market and is actually shrinking; We might also suppose that, for its generally small and medium-sized customers, iSCSI is more popular than Fibre Channel.
Is NVMe over Fabrics (NVMeF) support coming? Peleg said: "Yes but to access a logical volume on our array."
Won't this volume to drive mapping slow things down?
"There will be some delay but not so much" as to be unacceptable.
Cherian said: "We'll be offering iSCSI and NVMeF [and] NVMeF is running in our labs now."
What about HCIA support?
Cherian believes the industry going in the direction of composability and commodity hardware. To paraphrase him, philosophically a composable infrastructure looks a good destination for the IT industry and lies beyond hyperconverged systems. He thinks the future will be composable.
So we shouldn't expect Reduxio to support hyperconveregd infrastructure architecture with a VSAN-like approach but it will look positively on composability.
Is the Reduxio array clusterable?
The Reduxioites said the architecture is inherently clusterable. It was designed to be although that's not implemented. Peleg said: "We do see a future where we could use this attribute of our system. But we are not there yet."
Expanding the hardware
Today's HX Series array has 2-controller in a 2U box, with 38.4TB raw, 120TB+ effective capacity, made up from 8 x 800GB eMLC SSDs and 16 x 2TB 7.2K 2.5-inch nearline SAS disk drives
A future HX could quadruple the usable flash, potentially meaning 4 x 6.4TB equalling 25.6TB. There could be doubled disk drive capacity, using 3.5-inch drives, to reach 64TB. The total will be 90TB raw and so around 270TB effective capacity after deduplication and compression.
It doesn't seem a massive capacity in the general scheme of things but then scale-out is being approached.
Cherian said: "We're very interested in what will happen with QLC (4 bits/cell) NAND and are very interested in the possibilities for that with our architecture."
One option is to add a slower and cheaper flash tier between today's SSDs and the disk drives, or even to replace the disk drives.
Looking far out
Peleg presented new concepts for data set movement. Two slides summarised his thinking: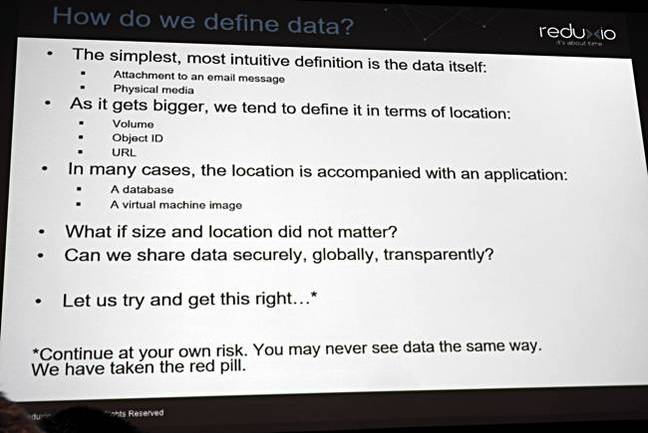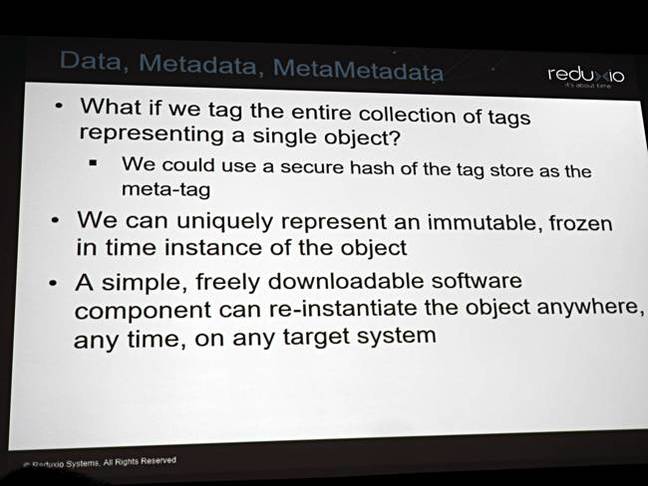 This vision thing Peleg is talking about a universal data set instance (complete array), digest and store in the cloud operation. It is then re-instantiated on any target array or server. If the server has insufficient capacity then the cloud data store sends it needed data as if it itself were a secondary tier and the target server a cache. As a metaphor think of a Dropbox folder with some contents you could use.
The Reduxio people think a driving, overarching vision of storage is both necessary and what distinguishes them from competitors who are making incremental improvements based solely on more capacity, lower cost, faster access, etc.
Its thinking is about data representation and how to redefine or clarify that as a way of developing more functional arrays that its competitors are prevented from conceiving because they don't have an equivalent visionary approach.
Sales message
Returning to the here and now, Reduxio's sales pitch is focused on customers having experience of backup and disaster recovery problems, and how Reduxio can solve them. It claims to have much faster and easier restoration and recovery than ordinary backup schemes, and this has a value that is real and tangible and above mere questions of array cost and speed.
If it's a sales contest just on cost and speed terms then Reduxio may well lose, so it wants to start sales conversations on the backup /disaster recovery issue where it believes its message is one of the strongest in the industry. ®