Google parent Alphabet announced on Thursday a better-than-expected quarter, driving up its share price.
Its stock jumped to $1,036 apiece in after-hours trading before settling down slightly into the low four figures, up three per cent. Analysts had been expecting earnings per share to be around $8.33, but Alphabet smashed this with an EPS of $9.57 – and revenues of $27.8bn in the three months to September 30, up 24 per cent on the year-ago quarter.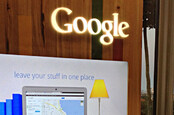 Alphabet takes Euro antitrust fine in stride, spooks investors with rising Google ad costs
READ MORE
CEO Sundar Pichai announced he was well satisfied with the results, in particular the strong growth in Asia and promising signs from the Other Bets division of Alphabet, covering Nest, Waymo and the many other long-term investments the biz is making in future technology. The key results are as follows:
Revenues hit $27.8bn, up 24 per cent over Q3 2016 and above analyst estimates of $27.2bn. Google, as is traditional, brought in the lion's share of this – $27.4bn – but the Other Bets grew to $302m, up from $197m in the same quarter last year.
Net income for the quarter was $6.7bn, up 31 per cent from $5.1bn this time last year. It's also much better than the $3.5bn in the previous sequential quarter, although that was a duff three months thanks to Google shelling out a $2.7bn antitrust settlement with the EU.
Non-GAAP earnings per share of $9.57, more than a dollar ahead of estimates. It was this strong showing the proved so enticing to the world's stock markets.
Other reveunes, including Google Cloud and Play and hardware, brought in $3.4bn, up 42 per cent from $2.4bn in Q3 2016. CFO Ruth Porat said the new hardware Google launched earlier this month is expected to bring serious revenue benefits in the fourth quarter of the year as buyers gear up for Christmas.
Other Bets the group that includes Nest and Waymo, are still loss-making ventures at the moment, losing $812m this quarter. That's better than the year ago's $861m loss, and worse than the previous sequential quarter's loss of $722m, however, Nest in particularly has been putting out a slew of new products that came with ancillary costs.
Headcount rose to 78,101 employees in the quarter, up from 69,953 a year ago. The bulk of these hires were in engineering and product managers, although the tech giant is also investing heavily in sales staff for its cloud products.
Taxes and cash were a rosy spot for Alphabet. The biz paid an effective tax rate of 15.6 per cent in the third quarter of the year. The firm is sitting on $100.1bn in cash and negotiable securities for the quarter, around 65 per cent of which is held overseas. Porat said the goliath has no plans to repatriate foreign earnings, although one suspects that may change under Trump's new tax plans.
Regional growth differed sharply around the world. Slowest was Alphabet's home market of the US which saw growth of 21 per cent, followed by Europe and the Middle East at 23 per cent. The rest of the Americas saw the strongest growth, up 33 per cent, while Asian and Pacific markets were up 29 per cent.
Traffic acquisition costs rose 32 per cent year-on-year, with Alphabet spending $5.5bn. Porat said the rise was because of growth in mobile and programmatic advertising, which are more expensive areas of the business where TAC is concerned.
"It has been another great quarter and I've been really proud of our progress," concluded Pichai in a conference call with analysts.
"It has been particularly exciting to see our early investment in AI pay off, and move from a project to something helping millions of people. It's a new paradigm." ®