Analysis Commvault revenues grew in the last quarter – not enough to please Wall Street, but a reference architecture reselling deal with Cisco might mollify the wolves.
Second-quarter revenues in Commvault's fiscal 2018 grew 5 per cent year-on-year, and 1 per cent sequentially to $168.1m. On its own that should have been enough, but investors were disappointed as several large deals fell through.
There was a GAAP net loss of $1m ($0.02 loss per diluted share), compared to $600k a year ago and a $284k a quarter ago – not great.
Services revenue was $96.1m, an increase of 8 per cent year-on-year and 5 per cent sequentially. Software revenue was $72m, up 2 per cent year-on-year but down 4 per cent on the previous quarter. That was the problem.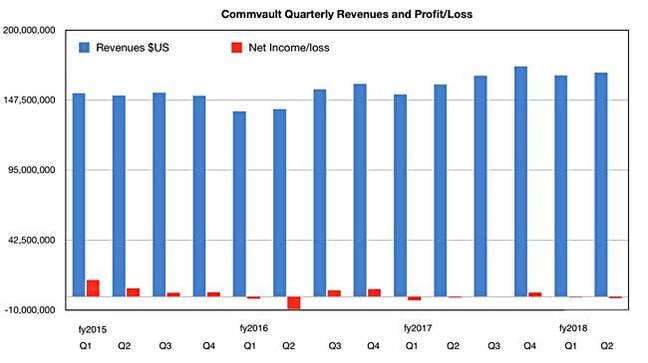 Click to enlarge
Chairman, president and CEO Bob Hammer explained: "Our fiscal second quarter was adversely impacted by lower than expected close rates on large enterprise deals, as these deals are both complex and have timing risk... Despite the financial results for the quarter, we continue to believe we are well positioned to take advantage of the opportunities in front of us during the second half of fiscal 2018 and into fiscal 2019."
Jason Ader, an analyst at William Blair, had a pert comment. "The irony here is that Commvault missed on large deals in the quarter where it introduced a host of new products aimed at mitigating large-deal risk," he said, referring to the HyperScale announcement among others.
As well as the the complexity and timing of large enterprise deals, Ader thinks: "The lower close rates were due to... confusion over the new subscription-based pricing models, rather than competitive pressure. Management noted that some slipped deals have already closed three weeks into the third quarter, with the remainder expected to close by the end of the year."
Unless there are further problems, the rest of the year should be OK. The full fiscal-year forecast is roughly $708m, implying year-over-year growth of about 10 per cent. The next two quarters should see revenues of around $183.3m and $190.7m respectively.
The Cisco-Commvault reselling deal counterbalances the disappointing quarterly results. Scale Protect with Cisco UCS combines Commvault's validated reference design architecture for HyperScale software with Cisco's servers.
After the disappointing money stuff, this is all good news for Commvault as it gets Cisco's resellers able to shift HyperScale software, and that should boost sales in the next couple of quarters. ®
Similar topics