IBM wheels out upgraded FlashSystem: Now breathe in and squeeeeze
More flash capacity, hardware compression triples capacity
---
IBM has tripled the capacity of its FlashSystem arrays and added hardware compression to squeeeze in more data.
These arrays, last updated in April 2016, start with the base 900 model which is available on its own or as part of the A9000 pod and A9000R rack systems.
They use proprietary flash drives and IBM is selling a bunch of them to its customers.
The 900 comes a 2U/12-slot enclosure delivering 1.2 million IOPS. Its previous 2bits/cell MLC Micron flash changes to 32-layer 3D NAND, also from from Micron, with 3bits/cell TLC flash using, we understand, 60nm cells. Because of the switch from MLC to TLC flash there is a slight degradation in write IO time over the previous MLC 900.

FlashSystem 900
The flash is embodied in IBM's proprietary MicroLatency flash modules and not standard SSDs. These modules have always-on, inline, hardware compression using an FPGA, and a hardware-only datapath utilising ASICs and FPGAs. This, IBM says, would be slowed down if NVMe was used as it would require processor interaction which would take time.
There are 12 flash modules per 900 and these can have three raw capacity levels:
| Module Raw Capacity | System Raw Capacity | Usable Capacity | Effective Capacity |
| --- | --- | --- | --- |
| 3.6TB | 43.2TB | 36.1TB | 72.2TB |
| 8.5TB | 102TB | 85.5TB | 171TB |
| 18TB | 216TB | 180TB | 180TB |
A 900 system can have only one flash module type. Usable capacity is raw capacity after data protection. Effective capacity is the typical (average) amount of user data that can be stored on a system after data compression.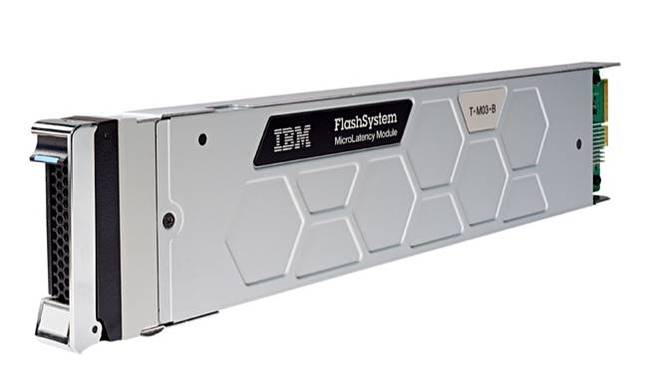 MicroLatency Flash Module
According to a Silverton Consulting document on IBM's website there is an average of 2:1 compression for the 3.6TB and 8.5TB flash modules but 1:1 for the 18TB one, meaning no compression. It does not reveal why there is this difference with the 18TB flash module.
But Eric Herzog, VP Product Marketing and Management for IBM Storage Systems, told us: "57TB in current 900 and new is up to 220TB with compression and up to 180TB without, depending on which of the flash modules you use."
Okay, but that's still less than the 2:1 ratio with the other flash modules, being just 40TB more.
IBM provides an optional compression guarantee of 50 per cent capacity savings no matter the workload environment.
Software additions
Big Blue has announced:
Comprestimator and capacity visualization tools to estimate, monitor and manage FlashSystem 900 storage capacity,
Security Key Lifecycle Manager (SKLM) support to centralize key management (KMIP) and enable data-at-rest security,
Dashboard to give admins visualization of performance, capacity and other characteristics,
Service log and periodic collection process to provide proactive service for FlashSystem 900 customers - ie, Nimble-style instrumentation and coming analytics,
Spectrum Control on-premises and in-cloud single management UI for multi-vendor and multi-product storage infrastructure, with management and monitoring capabilities for storage systems, automated provisioning, tiering and replication management.
A9000 and A9000R
The A9000 (PDF) is an 8U enclosure with one FlashSystem 900 and three grid controllers inside it, all linked by InfiniBand. The grid controllers provide replication, migration, encryption, and data reduction, meaning pattern removal, deduplication, and compression.
With the new 900 IBM says the effective capacity goes up to 900TB, assuming 18TB flash modules – that's the deduplication effect;
There is no NVMe link between the controllers and flash enclosure, IBM saying InfiniBand has an RDMA-style protocol, shortens the SW stack and has parallelism through multiple lanes. Hence there is no need for an NVMe link.
The A9000R (PDF) is a rack with 6 x 6U building blocks, each comprising two grid controllers and one 900 flash enclosure. Capacity can scale to 3.6PB and performance to 2.4 million IOPS per system.
Big Blue says the A9000 and A9000R provide enhanced HyperScale capabilities for high availability and reliability, making it easier to integrate and utilize existing XIV systems. There are copy services between XIV gen 3 arrays and the A9000/A9000R duo, plus OLVM (online volume migration) between racks and pods.
These FlashSystems come with a seven-year flash endurance guarantee as before.
Bits and pieces
The VersaStack converged infrastructure (CI) systems from IBM and Cisco include the new A9000 and A9000R.
Spectrum Virtualise, IBM's replication facility to other systems, has a new offering: Spectrum Virtualize for Public Cloud. It offers real-time replication, utilizing Global Mirror, Metro Mirror, and Global Mirror with Change Volumes according to a customer's RPO/RTO requirements. It sends data to IBM's public cloud only. AWS support has been demonstrated and is likely coming.
V8.11 of Spectrum Virtualize supports Docker and Kubernetes container environments. Customers can still buy Spectrum Virtualize bundled with IBM storage, and Spectrum Virtualize for hosted private clouds.
The V9000 third-party storage virtualising facility has new scale-up and scale-out options. It supports more than 400 storage arrays from multiple storage vendors, and scales to over 2PB.
Spectrum Control Storage Insights is IBM's cloud-based storage management facility. There are plans to add cognitive support and increase the volume of diagnostic data collected. Then the cognitive support will increase insight into storage health, performance and capacity, provide hopefully faster resolution of issues, an enhanced user experience, and higher system availability.
A Storage Utility Offering will give customers the ability to pay for storage capacity based on actual monthly usage.
+RegComment
This is a welcome upgrade for FlashSystem users and prospects, with the tripled capacity only slightly slowing the 900's write speed. The inline compression is claimed to have no impact on performance at all. If Silverton is right about the reduced compression on the 18TB flash modules we wonder why this is so. Is there a physical space constraint on the drive or a controller issue perhaps?
Certain suppliers are convinced that the world is not moving towards full use of commodity SSDs, notably Pure Storage with its FlashBlade and IBM here. IBM boasts that it has industry-leading error correction and garbage control, as well as low write amplification and good wear levelling precisely because it has its own proprietary controller for the bunch of Micron flash chips on its drive modules.
The seven-year guarantee is an unusually long one in an industry where five years is normal and surely reflects Big Blue's confidence in its flash module prowess and technology.
The probable addition of Watson machine learning technology to instrumentation data from the new flash modules gives IBM a somewhat delayed response to the proactive and preventative array system analytics sweeping through the storage industry as a result of Nimble's pioneering efforts. Bring it on. ®
Similar topics
Narrower topics