This article is more than 1 year old
Google Play Protect is 'dead last' at fingering malware on Android
Don't expect ads giant to stop all software nasties for you – it certainly can't
Last month, German software testing laboratory AV-Test threw malware at 20 Android antivirus systems – and now the results aren't particularly great for Google.
Its Play Protect system, which is supposed block malicious apps from running on your handheld, was beaten by every other anti-malware vendor.
When exposed to recent Android malware samples, six of the 20 software suites sampled correctly flagged every single one as evil and prevented them from running. Eight more managed a 99 per cent or higher hit rate. Google's own system, Play Protect, only detected 65.8 per cent of threats.
When it came to analyzing AV-Test's reference set of older malware, the results were equally unimpressive. Some 13 of the 20 packages scored 100 per cent detection rates, with all but Play Protect correctly identifying 93 per cent or higher of samples. Google's code managed just 79.2 per cent.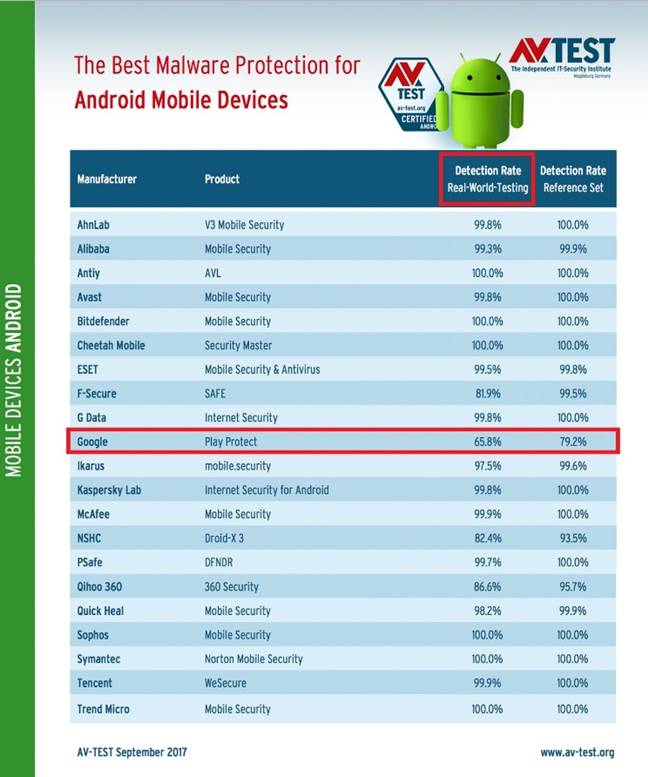 Google sucks at own security ... Sad
Google's Play Protect system was introduced by the Chocolate Factory this summer, and it's the first time AV-Test has put it through its paces. Google bills the software as "the ideal security blanket" for users of its mobile OS, however, the testing shows it may be worth getting a third-party duvet in the meantime.
There could well be good reason for this kind of performance. Play Protect bundled together a lot of different tools under one label – anti-malware defenses, and remote device lockdown and recovery – and it's possible that its engineers haven't quite worked out how it all plays nicely with each other, or the team is overstretched and underfunded.
This has, in a way, happened before, with Microsoft trying to protect an operating system it was too busy bunging new features on to slow down and secure the code. When Windows Defender was launched in 2006 it was roundly denounced as rubbish, and with good reason. Nowadays, Defender is pretty good, and now in wide use.
Google asked us for some extra time to go through the results before commenting. Since that deadline has come and gone, we can only assume that the clever clogs at the insanely rich ads giant hasn't been able to come up with a suitable excuse for its security software's sad showing. ®