Microsoft is crediting its Azure and Office cloud operations with helping to drive a better-than-expected start to its fiscal year.
The Redmond giant highlighted on Thursday the growth of its cloud services, both enterprise and consumer, as it topped $24bn in the first quarter of its fiscal 2018. For the three-month period, ending September 30:
Revenues of $24.5bn were up 11 per cent from $22bn in Q1 FY 2017, topping estimates of $23.4bn.
Net income was $6.6bn, up 16 per cent from $5.7bn the year-ago quarter.
Earnings per share were $0.84, blowing past analyst estimates of $0.72.
Intelligent cloud – a group that includes Azure, SQL Server, Windows Server, and enterprise support and consulting – logged revenues of $6.92bn, up 14 per cent from $6.1bn in Q1 2017. Azure in particular was a big winner, reporting a 90 per cent jump in revenues.
Productivity and business processes – including Office, Skype, Exchange, SharePoint, and LinkedIn – logged revenues of $8.2bn, up 28 per cent from $6.4bn last year. Office revenues were up 10 per cent from business and 12 per cent from consumer. Microsoft also noted that LinkedIn brought $1.1bn of revenues this quarter. Good for them.
The More Personal Computing group – made up of Windows, Surface, Xbox, games software, and Bing – saw revenues of $9.38bn down slightly from $9.4bn last year. Nadella noted e-sports and streaming will be particular areas of focus for the games business going forward, as will the pending launch of the Xbox One X. Funnily enough, there's no mention of mobile at all.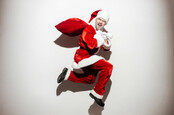 Happy New Year! Love, Microsoft: Price rises? Aw, you shouldn't have
READ MORE
In announcing the strong figures, CEO Satya Nadella noted that the soaring Azure revenues were in part a reflection of the increased capabilities of Azure and its appeal to customers.
"The kinds of workloads that are moving to the cloud has qualitatively changed. A lot of tier-one workloads were not on the Microsoft stack, and now a lot of those workloads are on Microsoft Cloud," Nadella told analysts on a conference call.
"The dialogue we have now is much deeper, much broader, it is no longer just simple vendor relationships."
Nadella also noted his company is bullish not only on the growth prospects of the Azure cloud, but also the continued success of the Office 365 line.
"We always believed and distributed computing and we built around that," he boasted. "We always thought that the edge and the cloud was always where the application was going to get to."
Wall Street seemed impressed enough with the strong returns, as Microsoft shares were up 4.3 per cent at $82.15 in after-hours trading. ®
Similar topics