Uber is once again being hauled into court, this time on allegations it deliberately underpaid women engineers and staff who were not white or asian.
The lawsuit (PDF), filed in the San Francisco Superior Court this week, alleges violations of California's Equal Pay Act and Private Attorney General Act, and demands back wages and damages on three counts.
According to the class-action sueball, backed by named plaintiffs Ingrid Avendaño, Roxana Del Toro Lopez, and Ana Medina, Uber uses a "stack ranking" evaluation system for its employee reviews that is subject to the personal biases of individual managers.
"As a result of Uber's policies, patterns, and practices, female engineers and engineers of color receive less compensation and are promoted less frequently than their male and/or. white or asian counterparts," the suit alleges.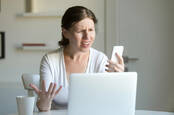 Now Uber sued for textual harassment
READ MORE
That system, in which employees are ranked from "best" to "worst" in performance twice a year, results in women and people of color routinely being underpaid and passed over for promotions.
A similar ranking system was used for years by Microsoft, and was eventually phased out on the conclusion it was an unreliable and ineffective way to evaluate individual performance within teams.
According to the lawsuit, the rankings system bases pay and promotion not on the actual performance of individual engineers, but rather on the subjective opinions of managers who have tended to favor men who are either white or asian.
As a result, the suit alleges, women and people of color end up being paid less and promoted less often across the board.
"Because female employees and employees of color have been systematically disadvantaged by the stack ranking performance evaluation process, their outcomes in terms of raises and bonuses have suffered compared to their male peers," the complaint reads.
Uber did not respond to a request for comment on the suit.
The next hearing in the case, a complaint management conference, is set to take place on March 28 of next year. ®
Similar topics