Vodafone Australia is market testing a product called "nbn extras" that will see it offer voice-over-WiFi or a virtual landline that redirects to mobile phones.
Friends of The Register tell us that the company is using paid online surveys to test the ideas illustrated below.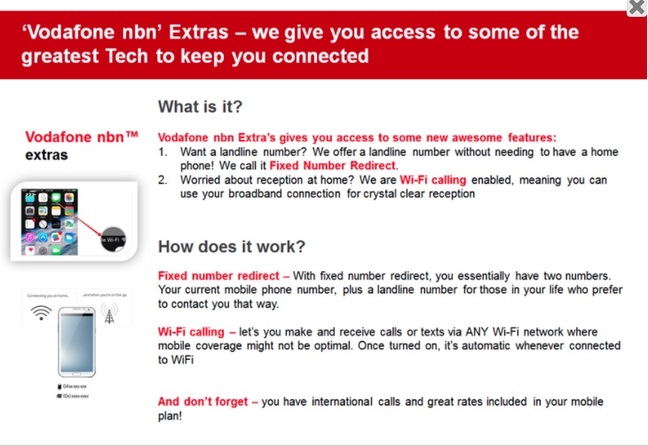 Vodafone's 'nbn extras' plan is being market tested as you read this story
Our sources tell us that Vodafone is asking punters what they'd pay for the services outlined above, and if they would shift consumer attitudes towards the carrier. The surveys even ask for feedback on names including "virtual phone", "NBN extras" and "landline".
In 2016 Vodafone announced its intention to become a retailer of services carried on Australia's national broadband network (NBN), a departure from its usual wireless fare.
In August 2017 the company announced decently-priced plans that include bonus mobile data for customers who bundle landline and mobile services. The company also pledged an immediate 4G data service lasting 30 days for anyone who signs up for an NBN service, but is still waiting for the national network to become available. 4G is also available as failover if an NBN service fails.
Another distinctive feature of the company's broadband services is the ability to change to a different plan once a month.
If the "extras" plans The Register has learned about come to market, Vodafone won't be alone with voice-over-WiFi. The virtual landline may be unique and therefore help to differentiate the company as it enters the fixed broadband market.
Vodafone already offers voice-over-WiFi and a virtual landline in other nations, so the company's Australian arm probably doesn't have to re-invent the wheel to establish the services down under. ®
Similar topics
Broader topics