WDC results great and all but Milly's bummed out about Toshiba
Threat to NAND supply if talks fail and court favours Tosh
Updated Western Digital revenues and profits rose in its first fiscal 2016 quarter but worries surfaced about its access to 96-layer 3D NAND if the Toshiba talks fail and it loses at court.
WDC's profits rose sharply, from a loss of $366m a year ago, to $681m this first fiscal 2018 quarter. Revenues of $5.2bn were 10.6 per cent higher than a year ago as the company sold fewer disk drives and benefitted from higher flash prices.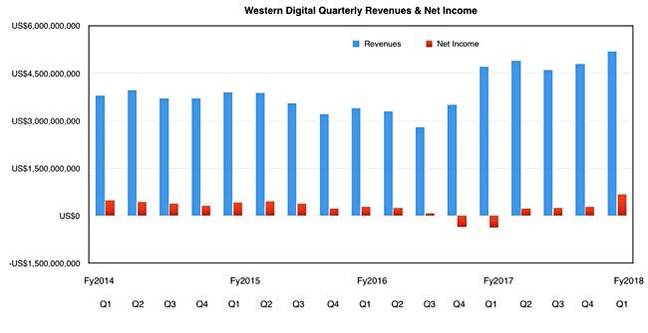 Click to enlarge
CEO Steve Milligan said WDC "continued our strong financial performance in the September quarter. We generated strong operating cash flow, reflecting continued healthy demand in many of our end markets, most notably in our flash-based businesses."
It shipped 42.2 million drives, less than the 47.5 million shipped a year ago. The segment splits show a downwards trend with a seasonal uplift.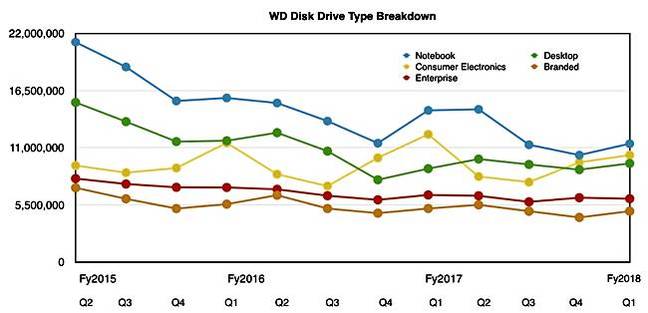 Click to enlarge
That's except for enterprise drives, which showed declines both annually and sequentially. Total exabytes shipped were 87.4EB – it was 80EB a year ago and 81.2EB in the previous quarter. We looked forward to checking the earnings call, hoping to hear about the Toshiba negotiating fiasco and the decision to ditch HAMR tech in favour of MAMR and potential 40TB drives.
Earnings call
Milligan didn't disappoint, addressing the Toshiba issue up front, and claiming to have been making positive contributions to the negotiations with Toshiba all along. Oh, those unreasonable Tosh tykes!
"Throughout the course of the negotiations, we made numerous allowances to meet the needs of Toshiba and other stakeholders, such as lenders, customers, suppliers and government agencies. Most notably, we withdrew from the INCJ-KKR consortium. This eliminated our participation in Toshiba Memory Company (TMC) equity ownership, thus minimizing regulatory risk and directly addressing key concerns of TMC's management.
"While we believe we provided the best potential solution to Toshiba and their stakeholders, Toshiba announced the transaction with the consortium led by SK Hynix and Bain Capital. We have made our concerns regarding their consortium clear. It continues to be our position that the transaction is not permitted without our consent. That leads to where we are today.
"There are two potential paths for resolution. The stakeholders will either engage in constructive dialogue in the near future, or this matter will be resolved through the objective arbitration process."
It's the courts or Toshiba agrees with WDC. That seems pretty hard-nosed, but then Milligan was talking to investors who don't want to see WDC's flash crown jewel – the Toshiba foundry joint venture – turn to crap.
Milly said the courts were the last resort. "Just to be clear, we do not undertake litigation lightly. We are not litigious." Sorry, Steve, but you are.
He talked about the Fab 6 investment where WDC argues Toshiba cannot go it alone. "We will not agree to terms such as SanDisk unilaterally waiving or negating its consent rights as a condition to participate, which is what Toshiba has proposed. Consequently, at this time, we are not confident that an agreement will be reached on this next investment tranche either.
"Our board and management are focused on resolving our differences with Toshiba, whether that is through a negotiated agreement or the arbitration process... We are steadfast in our commitment to protect our interests and those of Western Digital's stakeholders. We are confident in our fact-based legal positions and our right to injunctive relief."
You can almost feel the investors quaking in their boots.
Analyst Karl Ackerman of Cowen & Co asked the key question: "I understand that the Bain-led consortium must fulfil your supply agreements in place through 2029, but do the master agreements stipulate that Toshiba and the Bain-led consortium must invest in 3D NAND technology for your existing fabs?
"Because if not, it would appear that your lack of a supply agreement with Fab 6 today, where I think the current plan is to build 96-layer 3D NAND, limits your technology roadmap [to] the 3D NAND tools that are installed in Fab 3, Fab 4 and Fab 5 today."
WDC's Mike Cordano ducked it, saying: "Our number one priority is the continued longevity and success of the joint venture, and some of the details that you're asking, I'd prefer not to get lost in the weeds in terms of some of those questions at this point."
Reg comment
Weeds? This is a vital part of WDC's technology roadmap and Bain+Toshiba could screw WDC here, denying it access to 96-layer 3D NAND.
It's obvious Tosh is using the Fab 6 investment exclusion as a negotiating ploy. The Bainites and Tosh people don't share WDC's strong conviction in its legal rights and the longer this goes on the sourer will be Bain and Tosh's view of, as they see it, intransigent WDC and its CEO.
If Milly backs down now he'll lose a lot of face and people will ask why he had adopted the wrong strategy before. This is going to grind on and on until either Bain and Tosh give in, or WDC gives in/loses at court and, almost certainly, then changes its leadership.
For its next quarter WDC expect revenue to be between $5.2bn and $5.3bn – $5.25bn at the mid-point, which would be nicely higher than the year-ago $4.9bn. ®
Updated to add
Toshiba isn't thrilled with Milligan's comments. A Tosh spokesperson has been in touch to say:
The statement by WD is untrue. TMC has never conditioned joint investment in Fab 6 on SanDisk "unilaterally waiving or negating its consent rights." TMC is currently discussing with SanDisk whether it intends to jointly participate in this second tranche investment in the Fab 6 facility.