MoD: Sci-tech strategy? Er, here's a bunch of words and diagrams
Brit military top brass assures us it has coherent plan to harness Brit boffinry
---
The UK Ministry of Defence has unveiled latest its science and technology strategy by writing a jargon-ridden report full of incomprehensible diagrams – but it contains good news for startups.
In the Science and Technology Strategy 2017, which is supposed to underpin the £80m/year Defence Innovation Fund, the ministry's chief scientific adviser, Hugh Durrant-Whyte, wrote that it is "time for a renewed focus on S&T in Defence."
Durrant-Whyte himself is a professor of robotics at Sydney University and has a background in developing autonomous drones, something the MoD is particularly keen on for battlefield reconnaissance.
"To meet its strategic challenges, Defence must focus on how to get innovative concepts and novel technologies translated and implemented into MOD's operations and business processes. This is a challenge for the whole of Defence which S&T cannot address alone," the report said.
The Defence Innovation Fund is being slowly spent on bringing startups' good ideas to life through competitions and funding.
However, exactly how the MoD plans to get the most bang from its innovation buck has been lost in a blizzard of incomprehensible diagrams. Take this sample from the report: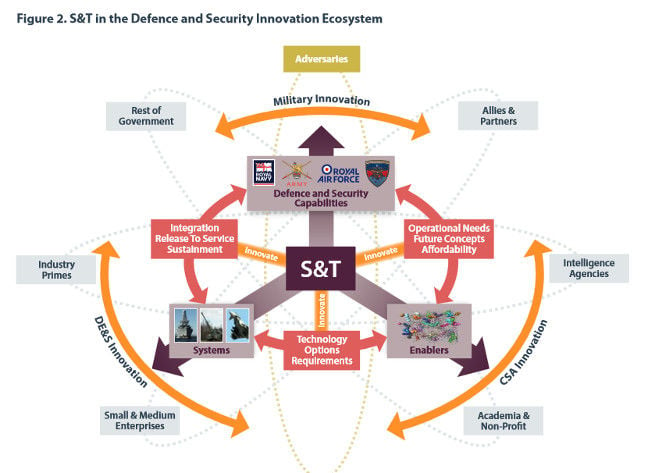 Nope. No idea
If you know what this means, please let us know in the comments section. As one wag remarked to us upon seeing it: "This is why we're not allowed Visio any more."
On the flip side, the ministry is very keen to get "academia, industry and those elements of the startup community currently not well engaged with defence and security" into the fold. The giant carrot of the Innovation Fund is supposed to help with this, and some tech-focused startups are receiving central government funding as a result.
One recent recipient of defence largesse is South Wales-based Zoneart Networks, which develops a Wi-Fi tracking product that records the physical location of a user who logs onto a particular network.
The full strategy document can be read on the MoD website. ®