This article is more than 1 year old
Fresh bit o' Linux to spruce up that ancient Windows Vista box? Why not, we say...
Q4OS. Oh, gesundheit. Oh, that's the distro, is it...
Review The Linux distribution Q4OS sounds like textspeak from a teenager from 1997, but it has potential, and it's not a bad option for Linux newbies.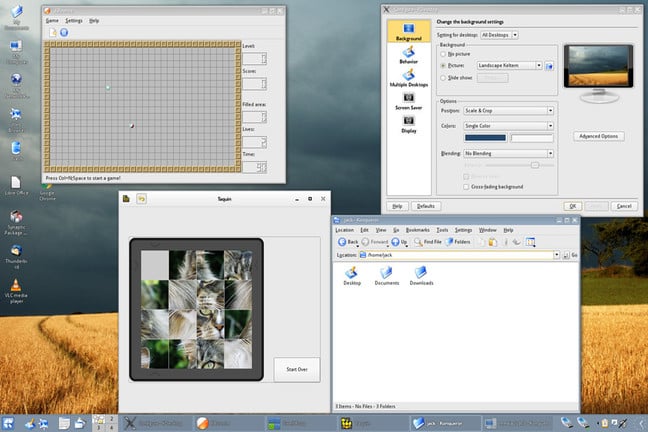 Click to enlarge
The Linux OS is flexible. If one Linux distro is an unfriendly fit, you can replace it with another one that has a more appealing options list on the desktop environment or user interface front.
Debian-based Q4OS, developed by a team of software designers in Germany, has a lightweight design that allows it to run on nearly any hardware config. I have run it on ageing computers from the early days of Windows Vista.
Not another Trinity killer
Q4OS version 2.4, Scorpion, released in early October, has a lot in its favour for new users and converts from Microsoft Windows 10. One of the factors that distinguishes the distro from more mainstream Linux offerings such as Ubuntu or Fedora is the default Trinity Desktop Environment.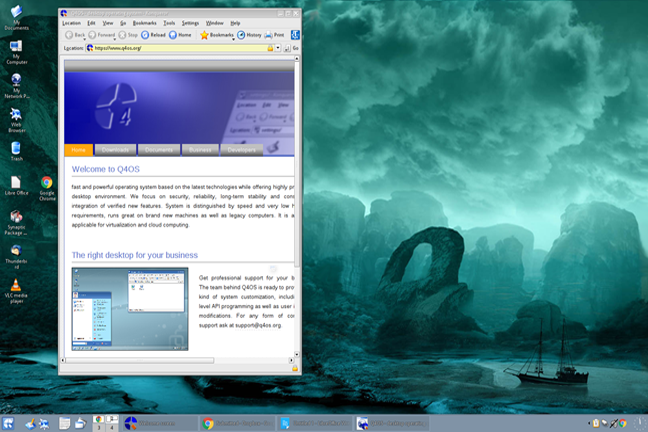 Click to enlarge
A community of programmers forked Trinity from the last release of the KDE3 version 3.5.10 desktop in 2008. KDE was morphing into a desktop with a new design direction and changed functionality through KDE4 Plasma evolution. The K Desktop became more settled in current KDE5 releases. Along the way, the Trinity desktop refined the ageing interface in KDE3 and forged new life and popularity among steadfast users.
Prior to this latest Q4OS release, Trinity was the only desktop option available. Being able to use other desktop options makes Q4OS more attractive.
It also lets users do something that nearly all other distros with multiple desktops do not. After you install the default Trinity desktop, you can run the desktop installation chooser tool to install any of the other supported desktops – and repeat the process as often as you want to try out your favourite environments or change up your computing routine.
The chooser tool is easy to use, even for n00bs. Just click on the Run Command utility in the main menu. That opens a command line where you simply enter: >altdeski and then click the RUN button.
When you reboot the computer, the selected desktop awaits. The chooser tool launches auto-installation scripts that take care of the installation and configuration of the hefty list of desktops Q4OS supports – including LXQT, XFCE4, Cinnamon, KDE Plasma and MATE.
Tech notes
The Q4OS Scorpion release comes with long-term support, which means the developer provides security patches and software updates for five years, giving this release a shelf life to at least October 2022. It is based on the Debian Stretch 9.2 and Trinity 14.0.5, which are among the latest platforms available.
A trend among Linux devs is to drop support for old 32-bit computers. Not the Q4OS team. The Q4OS community released both 64-bit ISOs for newer computers and 32-bit versions with or without the PAE memory extension technology. Thus, the OS will run on most of the legacy hardware still in circulation.
So if your desktop or laptop ran Vista, it will run Q4OS Linux fast and reliably. This is a smart way to energise old computers.
The minimal hardware requirements is a Pentium 300MHz CPU with 128MB RAM and 3GB hard disk space.
Look and feel
I have followed the development of the Trinity Desktop since it began. I remained disappointed in it during those formative years. It was little more than a KDE environment gone really lightweight. Lots of must-have features and functionality were missing.
My passion for Trinity grew in the last few releases as the user interface matured into a serious interface. But Q4OS is much more than just a platform for Trinity. The distro under the hood is stable and efficient. Everything about this distro's design and functionality makes using it pleasant and efficient.
This latest release pushes the performance and productivity envelopes even more. The ability to choose from a variety of desktop environments finally gives Q4OS a critical edge over other Linux distros.
Another neat characteristic is the exclusive utilities and features you do not get with other Linux OSes. For example, the Desktop Profiler automatically configures your computer with particular professional working tools for the category you select.
You could spend weeks researching the many general purpose and speciality Linux distributions. After a while, it becomes difficult to distinguish one from another, especially if they run the same desktop environments.
Q4OS is noticeably unique and innovative – an ideal platform for anyone who wants the best that open source has to offer. ®