This article is more than 1 year old
Google Drive ate our homework! Doc block blamed on code blunder
Netizens locked out of cloud-hosted files for bogus terms-of-service violations
An indeterminate but supposedly small number of Google Docs users on Tuesday found that their essays, reports, school assignments, tracts, and manifestos had run afoul of Google's terms of service and had been made inaccessible.
Some users reported being unable to share their documents; others said their documents could not be viewed in Google Drive; and a few claimed their work had been lost, though we're told what was lost has been found again.
Several hours ago, Bhaskar Sunkara, founder of Jacobin magazine, via Twitter said an article on Eastern Europe's post-socialist policies had vanished from his Google Drive space due to a terms of service (ToS) violation.
Rachel Bale, a reporter for National Geographic, said a draft of a story about wildlife crime had been frozen for a ToS violation.
And Jason Heppler, an assistant professor of history at the University of Nebraska at Omaha, posted a screenshot showing that a requested file had been deleted from Google Drive.
Similar tales litter the Google Docs Help Forum.
The incident prompted reiterations of longstanding concerns about the downside of cloud-based services, namely that files stored remotely can be swept away at any time for any reason. And it comes at a time when Google and its peers are under scrutiny in the US for not knowing more about those who share content and pay for ads on social platforms.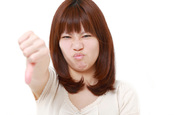 Google routing blunder sent Japan's Internet dark on Friday
READ MORE
Google offers Docs and Drive under the usual rules, which disallow abusive or illegal content. In most circumstances, it does not scrutinize private content stored on its servers, though it does have automated systems in place for detecting illegal images, at least in Gmail.
YouTube also has a system for detecting copyrighted content.
For shared content like Docs files, much of the ToS policing has been foisted upon other users, who are invited to flag material they deem inappropriate.
It's that flagging mechanism that went haywire, we're told. Shortly after noon Pacific Time, Google acknowledged its errant flagging frenzy and attributed it to bad code.
"This morning, we made a code push that incorrectly flagged a small percentage of Google Docs as abusive, which caused those documents to be automatically blocked," a Google spokesperson said in an emailed statement to The Register. "A fix is in place and all users should have full access to their docs."
Google's spokesperson said that protecting users from malware and abusive content is part of the company's strategy for keeping users safe online and apologized for the disruption while promising to implement safeguards to prevent its safeguards from getting out of hand. ®
"The computer did it" is Google's excuse for alerting us to how precarious our own content is when hosted by Google: https://t.co/dAjqHkRihx

— Ken Tindell (@kentindell) October 31, 2017