This article is more than 1 year old
Funnily enough, when Qualcomm's licensees stop sending in their royalty checks, profits start going south
As Apple 'threatens' to ditch Qualy modems altogether
Qualcomm beat Wall Street's expectations on Wednesday, reporting $5.9bn in revenues for its fiscal Q4, down five per cent year-on-year, and $22.4bn for the full year, also down five per cent.
The chip designer's diluted earnings per share came to $0.92 for the quarter, higher than the $0.81 analysts had anticipated, according to Thomson Reuters. The quarterly revenue also beat expectations by $100m.
Qualcomm reported a fourth-quarter profit of $200m, down 81 per cent on the year-ago period, and a full-year profit of $2.5bn, down 57 per cent on fiscal 2016.
Within that fourth quarter – the three months to September 24 – its Snapdragon series of system-on-chips and modems brought in $4.6bn in revenues, up 13 per cent on Q4 2016, and $973m in pre-tax earnings, up 42 per cent, from 220 million shipments, up four per cent. Qualy's tech licensing wing brought in $1.2bn in revenues, down 36 per cent, and $829m in pre-tax earnings, down 48 per cent.
For the full year, the Snapdragon chipset division booked $16.5bn in revenues, up seven per cent on fiscal 2016, and $2.7bn in pre-tax earnings, up 52 per cent, from 804 million shipments, down five per cent. The licensing wing booked $6.4bn in revenues, down 16 per cent on the previous 12 months, and $5.1bn in pre-tax earnings, down 21 per cent.
In other words, chip sales did all right. Licensing took a big dive, dragging down the overall numbers.
Reaction
Though revenue and profit as a whole were down from a year ago, Qualcomm's stock rose slightly in after-hours trading to $53.80 apiece because, as CEO Steve Mollenkopf put it during the company's conference call with analysts, the results were "better than expected."
Mollenkopf expressed optimism in Qualcomm's product roadmap and in its ability to contribute to the communications industry's shift toward 5G. He also said he expected Qualcomm's acquisition of NXP Semiconductors will help the company grow in the automotive, IoT, and security markets.
In its financial release, the biz said its earnings "were negatively impacted as a result of actions taken by Apple and its contract manufacturers" and another unnamed licensee that underpaid royalties in Q2 and failed to pay royalties in fiscal Q3 and Q4 on Qualcomm-patented communications technology. Those refusals would explain the above plunge in licensing cash.
In January, the US Federal Trade Commission charged Qualcomm with using anticompetitive tactics to monopolize the market for baseband chips used globally in smartphones and tablets. Qualcomm's Snapdragon cellular modems are a dominant force in the mobile world: they are built into hundreds of millions of Android handhelds and iPhones sold around the world every year.
It is alleged Qualy abuses its position, as the designer of a much-sought-after chipset and the owner of a hefty communications patent war chest, to strong-arm Apple and its suppliers into accepting expensive or unfair licensing deals.
This means war
Shortly afterward the FTC kicked off, Apple sued Qualcomm in California, asking for a billion dollars in damages and revised licensing terms. Qualcomm has countersued; the two companies are presently fighting over patent licensing in China, Germany and the UK, as well as the US. The Snapdragon designer has also asked the US International Trade Commission for an injunction on iPhones that use Intel modem chips.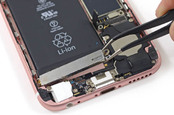 One BEEELLION dollars: Apple sues Qualcomm, one of its chip designers
READ MORE
The Wall Street Journal and others reported earlier this week that Apple could drop Qualcomm chips entirely in its 2018 mobile devices, and use Intel and MediaTek communications chips instead. The iPhone 7 and 8 already use a mix of Intel and Qualcomm cellular modem chips, so Cupertino is fully prepared to experiment with multiple suppliers. Apple, however, has declined to comment on that possibility; Qualcomm, meanwhile, insists it is prepared to provide Apple with chips for forthcoming devices.
On its earnings call, executive veep Alexander Rogers declined to identify the unnamed party that hasn't been paying royalties, and said Qualcomm is "still in negotiations with that licensee."
Donald Rosenberg, general counsel, suggested that while Qualcomm's various legal battles with Apple in Germany, China, and before the ITC in America could conclude sometimes next year, the overall dispute could take longer.
"It's important to keep in mind that litigation of this size and magnitude takes a while and you can't focus on any particular event in the short term," he said.
In short, if the well-timed rumor that Apple is ditching Qualcomm altogether was supposed to rattle the processor designer and its investors, it doesn't appear to have done so. For its Q1 2018 guidance, the company is projecting revenue ranging from $5.5bn to $6.3bn, and 220 to 240 million chipset shipments. ®