Hells door-bells! Ring pieces paralyzed in horror during Halloween trick-or-treat rush
Plus: Slap for Slack stack chaps in crap chat app mishap flap
---
The so-called smart doorbell maker Ring has just suffered an outage on the one day of the year that its internet-reliant products get the heaviest treatment.
Reg reader Aidan Padden alerted us to Tuesday night's downtime in the UK – which came at the height of Halloween door-knocking by trick-or-treaters – although it appears the problem affected customers worldwide, from the US West Coast to Europe. Essentially, the doorbells stopped working properly due to failures within their backend systems on the other side of the globe.
There'll be a lot of potentially vengeful children out there who have been deprived of sweeties because a homeowner's high-tech doorbell failed to work, we can imagine. Perhaps the system fell over due to demand from trick-or-treating tykes.
"We are seeing issues with live view connecting on some Ring Video Doorbell Pros and Floodlight Cams," said the company at 19:39 UTC on Tuesday. "Our development team is investigating as we speak and are taking steps to restore live video services to these devices as soon as possible."
Less than 15 minutes later it was the turn of the Ring app. Ring said the software was suffering the following failures:
Failures loading recent activity
Failures or delays loading live events or live view
Delayed video processing
Delays or failures logging into the Ring app
Delayed or failures in notifications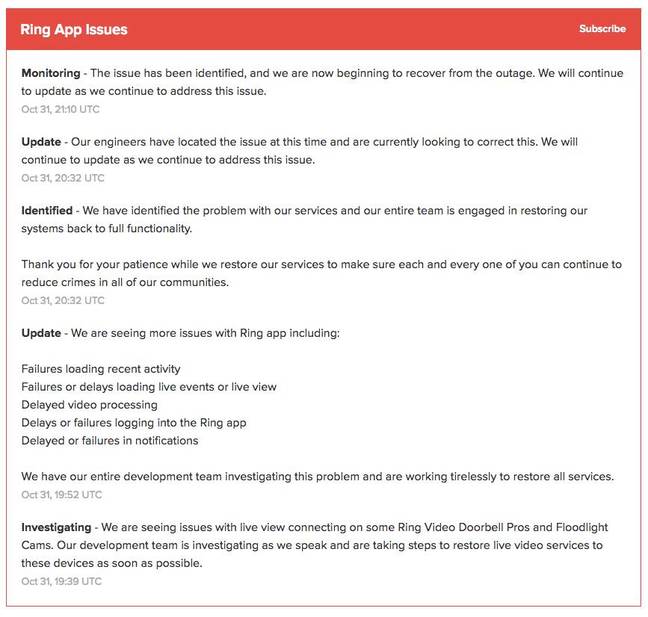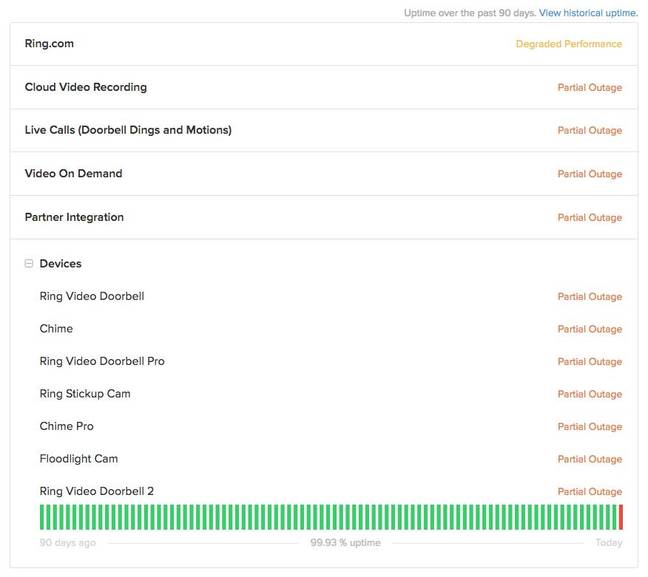 Screenshots from Ring's status page ... Click to enlarge
Two hours later Ring said it had identified and started correcting the problem, at 22:51 UTC. But sporadic faults are still eliciting complaints online and the company still notes that video on-demand and doorbells are still operating intermittently.
So if someone egged your house last night and you're surrounded by uneaten confectionery, you know who to blame. Still, it could have been worse. ®
Booted-off-note
Yes, Slack is down right now as we write and publish this. The group-chat app maker apologized for the outage.
Tonight, @SlackHQ's Halloween costume will be pic.twitter.com/4CY3oP2Ol8

— The Register (@TheRegister) October 31, 2017