This article is more than 1 year old
Fitbit health alert: You appear to be bleeding
Sales fall, losses grow, but watch looks OK
Fitbit's year-on-year losses grew fivefold to $113.4m compared to a year ago, with sales of 3.6 million devices in the quarter, 7 per cent up from the previous quarter. The firm admitted it had been a "difficult year" as the fitness band craze diminished, with sales down considerably compared to the same period of 2016.
However, the company wasn't punished by investors, since Fitbit's proportion of high-value products is encouraging. Its first proper fitness watch, the Fitbit Ionic, went on sale in the quarter, and was greeted with a decent reception. Average selling prices are 12 per cent higher than this time last year.
Fitbit reported a net loss of $113.4 million, or 48 cents per share, in the quarter, compared to a profit of $26.1 million, or 11 cents per share, a year earlier. Revenue was $392.5m down from $503.8m a year ago, while the company has $659m in cash and equivalents.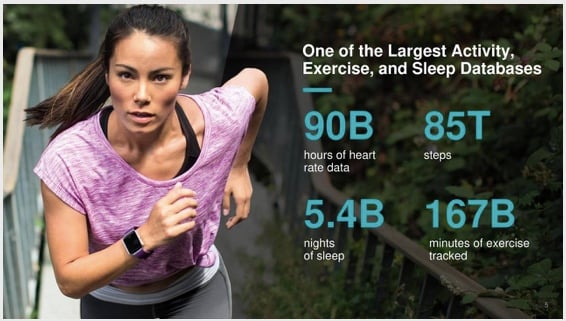 Fitbit's investor slides boast of how much data it has collected
The Christmas shopping season quarter is crucial, as Fitbit needs to persuade people who haven't yet bought into having their activity monitored that it makes a watch you can wear every day, rather than the generic wristband tat that has flooded the market. We'll know how well this went in February.
It's looking more like a two-horse race. Apple continues to keep its Watch aggressively priced – it actually cut prices in the UK this year. And over 80 per cent of punters don't have iPhone, leaving Fitbit the more attractive choice. ®