This article is more than 1 year old
Qualcomm sues Apple for allegedly blabbing smartphone chip secrets in emails CC'd to Intel
Plus: iGiant announces bumper quarter of sales
In its 10-K financial filing on Monday, a day before Apple's fiscal Q4 earnings, chipmaker Qualcomm revealed it has sued Apple yet again, this time for breach of contract.
The lawsuit, filed in a state court in San Diego, California, claims Apple flouted its contractual secrecy obligation by sharing confidential info instead of safeguarding it.
It's the latest in a series of lawsuits between the two companies.
Apple earlier this year, in the wake of a US Federal Trade Commission complaint against Qualcomm for abusing its technology patents, sued Qualcomm for $1bn to recoup what it claims are excessive royalties and to improve the terms of its license to use Qualcomm technology.
Qualcomm responded with countersuits in China, Germany, the UK, and the US. It also has sought to block the sale of Apple's iPhone through the US International Trade Commission.
These court fights are expected to linger into 2018 and beyond. If Qualcomm loses, it would be a huge financial blow to the company, not to mention a boon for rivals Intel and MediaTek.
And if Apple loses, the penalties could reach into the billions and could limit Apple's iPhone distribution. That's why there is speculation that the conflict will end in a settlement – the risks are too substantial to trust to an uncertain court ruling.
Until then, Qualcomm appears content to up the ante.
Apple in 2010 signed Qualcomm's Master Software Agreement For Limited Use, or MSA, which grants the iPhone maker access to confidential source code to help it integrate Qualcomm baseband modem chips into its devices.
"The complaint recounts instances when Apple failed to protect [Qualcomm's] software as required by the agreement and failed to provide sufficient information to which [Qualcomm] is entitled under the agreement in order to understand whether other breaches have occurred," a Qualcomm spokesperson said in a statement emailed to The Register.
The MSA requires that Apple takes steps to maintain the confidentiality of its trade secrets and establishes Qualcomm's right to audit Apple's compliance with the agreement once a year.
Qualcomm says one the primary purposes of the MSA is to prevent Apple and any vendor working with it from misappropriating Qualcomm code.
Concerned that Apple, after signing the MSA, began working with Intel to develop a competing baseband modem, which appeared in iPhones this year, Qualcomm in February sought to exercise its right to investigate Apple's handling of its confidential information during the following month.
Apple, the complaint says, responded that three weeks notice was not reasonable and declined to allow the inspection. Simultaneously, it "admitted that it had not maintained the list of Authorized Engineers who had accessed the software," as required under the contract.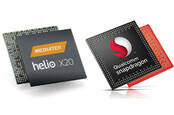 Funnily enough, when Qualcomm's licensees stop sending in their royalty checks, profits start going south
READ MORE
Apple subsequently coughed up incomplete information, the complaint says, even as it refused Qualcomm's other audit-related access requests, like providing "additional debug messages and log packets."
Qualcomm claims it has reason to believe Apple flouted its rules, and cites an incident in which an Apple engineer CC'ed an Intel engineer in a message containing confidential material. The chipmaker also says Apple engineers working with competitive vendors merely obscured references to Qualcomm in messages rather than restricting the flow of protected data.
After facing auditing roadblocks, Qualcomm says in mid-August it became aware of an online post by an individual purporting to have inside knowledge of Intel's modem design work for Apple. The post suggests that instructions were given within Intel "to ignore intellectual property rights when designing the modem."
In an effort to determine whether this statement came from an Intel engineer working on the Intel-branded modem that has made its way to Apple's iPhone, Qualcomm says it asked Apple to investigate.
Ten days later, Qualcomm claims, Apple responded with a flat refusal: "Apple does not plan to conduct an investigation."
Qualcomm is seeking a declaration that Apple is in breach of its agreement and damages for its alleged failure to meet its secrecy and audit obligations.
Apple did not respond to a request for comment. ®